CNN Anchor Gets Unfairly Slammed On Twitter For A Godzilla Japan Reference She Never Made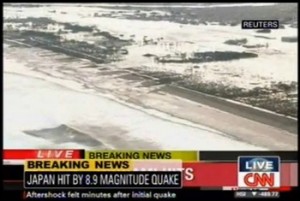 The massive earthquake and tsunami is an enormous story currently unfolding in Japan, and as news and information comes in to Western news bureaus, its not uncommon at moments like this for news anchors to get blasted for reporting something that later is proven to not be exactly right. But that doesn't appear to be the case with CNN's Rosemary Church, who has been vilified for making a Godzilla joke by a Twittersphere, even though she never seemed to say anything of the sort.
Writing for AdAge, Simon Dumenco puts things in perspective:
Widespread complaining on Twitter about Godzilla jokes, of course, just helped "Godzilla" surge into the Trending Topics list. And at the moment, Twitter's search engine is showing that the most-retweeted recent tweet mentioning Godzilla is from @maudnewton, literary blogger Maud Newton (full disclosure: years ago I hired her to do a bit of consulting for a media start-up I was running), who wrote: "For news of the disaster, you might prefer streaming Al-Jazeera to watching CNN anchor giggle about Godzilla." She then linked to a post by blog pioneer Jason Kottke titled "Al-Jazeera's Coverage of the Japanese Earthquake," in which he wrote,

If you haven't already heard, Al-Jazeera had (and continues to have) some of the best coverage of earthquake and tsunami in Japan … Contrast with CNN, which was apparently home to giggles and Godzilla jokes as the quake was being reported. In the last three or four big events in the world, Al-Jazeera has had the best coverage … is this a changing of the guard?

Kottke linked to an outraged tweet from @somebadideas: "Fuck you @CNN your anchor is giggling & talking about monster movies while you're showing waves sweep entire homes away." But no one on Twitter (or YouTube, for that matter) seems to have a link to video of the alleged CNN lapse in judgement. Here's Twitterer @owls_mcgee: "Anyone know if a CNN anchor made a Godzilla joke while showing pictures of people running for their lives? Or was that just Twittersteria?"
Turns out it seems like "Twittersteria" — or that the Twittersphere collectively held a real-time witch hunt on Ms. Church, blaming her for something it appears that she never actually said. Mediaite's crack research team has looked into all of the possible times that Church could have made a monster movie reference, or making light of the disaster unfolding, and we put together three following clips that appear to exonerate Church for the blame she received online. We did find an example of an American in Japan that made a reference that it was like a "monster movie" (which is included below) but Church handles herself completely appropriately.
Of course there is the chance that we have completely missed the offending clip (though we are confident that we haven't, thus this post.) But if anyone can find a video link to a laughing Church or Godzilla reference, please email it to tips@mediaite.com.
Update – the anchor in question was laughing in a clip just two minutes from those collected in the first below, though in fairness, she appears to not be laughing in the context of "monster movies" as was tweeted by @somebadideas, who goes claims to be a "filmmaker" named Aaron Stewart. Rather, the laughter is in the context of light banter between a news presenter and someone sharing a personal story while enduring a devastating earthquake.
You can watch the "laughing" clip embedded below.
Have a tip we should know? tips@mediaite.com