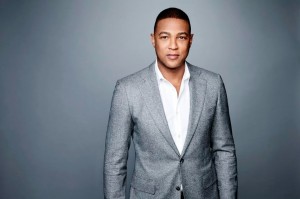 You know that there have been a lot of headlines about "the media" lately. There have been so many, in fact, that the media is starting to be the boogeyman of, well, the media. The tone of Donald Trump's voice when he mentions what he sees as the media's dishonesty, or calls a reporter a sleaze, could convince anyone who didn't know better that any type of formal news presentation is a big old sham.
Long before Trump was dragging the media into its own meta-headlines, though, there was Don Lemon. The CNN anchor has made plenty of his own headlines throughout his career because he was talking about social issues and hot cultural topics (like the use of the N-word, an infamous pet peeve that goes way back) years before talking about social issues became the popular thing to do. Surprisingly, so has Trump. The two have been on the record talking about racism, for instance, for years, though they've done it in different ways. What was once considered a bug is now a regular feature of political news coverage, so that today, it's not uncommon to turn on the TV and hear an anchor talking about race. When Lemon was doing it a few years ago, though, he caused major controversy.
In our exclusive interview, we asked Don Lemon what it's like to see every major outlet talking about the very things he was once dragged through the mud for talking about, and Lemon made it very clear that above all, he's just happy social issues have finally gotten some attention.
"I did get a lot of heat for bringing up some issues that may decide the election," he said, but proudly added, "It's good to know that we had the right editorial compass, that our editorial compass was right. Our grasp on what is important and what would be important was accurate," he told us.
The "heat" Lemon gets is only amplified by the fact that he's a gay man of color, meaning that a lot of the criticism he faces comes, by his estimation, from people who are speaking from a perspective rooted in homophobia and racism, even if they don't know it. "I'm not saying it's right, but I understand it," he said. "I'm just doing my job."
One person who is a fan of the way Lemon is doing his job is CNN's president, Jeff Zucker. The anchor is happy to report that no matter how much criticism comes his way, Zucker always tells Lemon "Don't listen to the noise. Continue to follow your gut. I have you here to be yourself."
Thus, Lemon went on to explain that even if Trump and Hillary Clinton hadn't made race relations cornerstones of their campaigns, and even if Black Lives Matter hadn't exploded as a national focal point, he would have never stopped bringing up the issues, even if he was the only one talking about them. That's because he believes that having uncomfortable conversations are the best way to make change.
"Those things are important," Lemon said. "It's important to do the right thing. The criticism is not what's important. You can never please everyone … I was prepared and am still prepared to do the right thing and talk about what makes people uncomfortable. I'm there to make sure that the American people and my viewers are informed."
Keeping the American people and his viewers informed, of course, is a task that's a lot harder than it sounds, especially this election season. Lemon has been the ringleader in dozens of panel segments that can only be described as circus-like. He doesn't mind, necessarily. He cites the "Trump effect," saying that he's observed that the guests on CNN Tonight With Don Lemon are much more passionate this year, "especially if it's a good topic." He called conversation the essence of the show and said that passion is exactly what he wants to facilitate.
That's a positive way to look at it all, sure, but passion and reality don't always work together. Lemon also mentioned that he's noticed a lot of guests are "more emotional than fact-based" lately, which has led him to have to work harder to keep the presented information as accurate as possible.
"The best way to do it is to stop [inaccurate statements] mid-sentence," he explained. "If someone repeats or stresses something incorrect or off the mark, they can go on to continue and do it a number of times. The best way to do it is to cut them off and say, 'That's not correct. Here's what the statistics show.'"
A few weeks ago, Trump's new campaign manager Kellyanne Conway learned quickly that Lemon has no problem interrupting a guest when they try to steer the conversation away from his questions. She accused him of badgering her, but Lemon insists, now, that "I was not badgering her! What I like to do is get people to answer in the moment. You're free to go on, to expound on your answer, but if I ask you if the sky is blue and you tell me the color of the sky isn't the question, it is, because that's what I'm asking."
He described his interview style as easy if politicians and surrogates are willing to stay on-topic, but he's well aware that if they aren't, they will inevitably blame him because "it's nothing new that politicians blame the media. All politicians do it, Democrats and Republicans. Republicans are famous for it; history has shown that."
On what responsibility the media bears for all of the negativity surrounding it, Lemon had this to say:
I am sure that there is media bias in some form, but I don't think it's to the extent that people say. I know CNN makes every effort — not only in editorial content, but in what's on the air — to not be biased. Just because you tell the truth or you point out that someone is being hyperbolic or condescending or rude or saying disturbing things does not mean you're biased! It means you're pointing out the truth. If you're using racist language in some way, if you're offending a group or demo, if you are myopic or too close to something and we point it out, it's not biased. If you're unaware of what your words mean and we point that out, it doesn't mean it's biased. We're just pointing that out, which may not be obvious to you, but it is obvious to most people.
He admitted, though, that the anger being directed toward the media appears to be at an all-time high now, in part because "some of the rhetoric that is happening now is giving people a license to be uncivil."
He explained that a lot of the comments thrown at people online would be considered threatening and could get a person arrested if they were made to someone's face in real life, so there should be consequences for saying them online, too. 
In spite of all that negativity, he was adamant about his belief that the media has done an excellent job this election season. If anything, he said, the sudden public scrutiny has caused reporters and media members to be more reflective and to work harder every day to present the truth.
Ultimately, he put it like this:
We have to allow ourselves to be human, to have difficult conversations without castigating one another, to challenge each other without calling names … We have to get out of our corners and come together at a big round table that I have every night at 10:00 and have open, honest discussion. Stop judging; we're not enemies. We're all friends just trying to work things out.
When someone explains the concept of their show like that, the media doesn't seem like such a big, scary specter after all.
[image via CNN]
Follow Lindsey on Twitter and Facebook.
Have a tip we should know? tips@mediaite.com