Cory Booker Walks Back Comment That Obama Campaign Attacks On Bain Are 'Nauseating'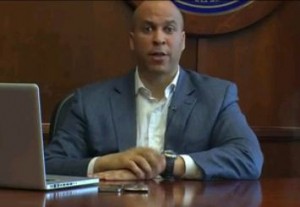 During an appearance on Meet the Press, Newark Mayor Cory Booker decried "nauseating" campaign tactics coming from both parties, singling out in particular attacks from the Obama campaign on Mitt Romney's private sector experience at Bain Capital. Well, Booker slightly backtracked from his remarks on YouTube, explaining that while he may have an issue with how negative the race has become, he thinks Romney's ties to Bain Capital are certainly fair game for the Obama campaign, and even encouraged them to look into the Republican candidate's business past.
RELATED: Mayor Cory Booker Calls President Obama's Bain Attacks 'Nauseating'
Booker reaffirmed his support of President Obama in the video, citing his economic accomplishments in particular. He explained that his Meet the Press comment was merely just the result of his frustration with the election focus so far on irrelevant issues, particularly through negative campaigning. Booker said if the campaign gets too nasty and negative, it may distract from more important issues. He defended his use of the term "nauseating."
"When I see people in my city struggling with real issues and still feeling the challenges of this economy and still looking for hope and opportunity and real specific plans, I get very upset when I see such a level of dialogue that… calls to our lowest common denominators and not the kind of things that are going to unify us as a nation and move us forward."
As for his dissatisfaction with the attacks on Romney from the Obama campaign, Booker clarified that he believes Romney's private sector past is certainly fair game in the campaign, and he said he would heavily encourage the president's reelection team to pursue it. He didn't really apologize for his comment nor did he retract it, but his video comes on the heels of overwhelmingly negative feedback on Twitter about his earlier remarks.
Watch the video below, courtesy of YouTube:
h/t msnbc.com
Have a tip we should know? [email protected]
Josh Feldman - Senior Editor