Coverage Of Romney's 'Gaffe-Tastic' Trip Contrasts With 2008's Coverage Of Europe's 'Obamamania'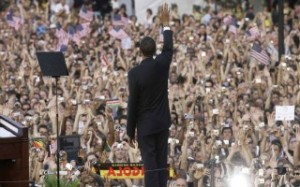 It is fair to say that if the press has had a love-hate relationship with Republican presidential candidate Mitt Romney before he became his party's presumptive presidential nominee, the love is nowhere to be found in the coverage of the former Massachusetts governor's trip abroad. Romney's overseas mission was marred by several incidents and misstatements magnified by brutal coverage in the press. With the awful headlines fresh in mind, it is worth reviewing how then Sen. Barack Obama's 2008 trip abroad was covered. Here's a spoiler, it was viewed in an overwhelmingly positive light — but it didn't have to be that way. Obama's trip abroad could have been covered quite differently had any news organization been willing to buck the narrative that Sen. Obama was not prone to failure and highlight his own missteps overseas.

RELATED: Selective Outrage: How The U.K. Press Reacted To Obama's Numerous Anti-British Gaffes
Mitt Romney's campaign is being slammed in the media for committing myriad gaffes while on his trip to Europe and the Middle East. His criticisms of London's security preparation were ill advised, despite that he was simply echoing a debate which had been occurring in the British media for weeks prior. Romney offended the Palestinian Authority when he said that there were cultural aspects to Israel's economic success and Palestine's stagnation. Finally, a campaign advisor annoyed the press when he told them to "kiss his a**" and to "show some respect" as they shouted questions at Romney near Poland's tomb of the unknown soldier.
Headlines summing up Romney's trip abroad are nearly universally unflattering. "Gaffe-filled," "gaffe-tastic" and "his mouth runneth over" are how some media outlets are describing Romney's trip. The gaffe narrative is even somewhat self-fulfilling. Politico's Jonathan Martin notes that the latest gaffe came as reporters shouted questions at Romney about his earlier gaffes.
The British Broadcasting Company noted that Romney is wrapping up his tour "amid tensions with media." You can say that again.
When Sen. Barack Obama embarked on his trip overseas to Europe and the Middle East in the summer of 2008, New York Magazine was already describing him as a "rock star."
A Pew Research Center study from the time noted that Obama's European trip dominated 51 percent of press coverage during the last weeks of July. Another 7 percent of media coverage focused on the media's coverage of candidate Obama and whether it was overly supportive.
USA Today's headline reflected a moment of self-awareness when it noted that "Obamamania" was "in full flight ahead of tour of Europe." They wrote that "Europe is about to give Barack Obama one of the grandest stages for statesmanship."
It's not only Obama's youth, eloquence and energy that have stolen hearts across the Atlantic. For Europeans, there have always been two Americas: one of cynicism, big business and bullying aggression, another of freedom, fairness and nothing-is-impossible dynamism.

If President Bush has been seen as the embodiment of that first America, Obama has raised expectations of a chance for the nation to redeem itself in the role that — at various times through history — Europe has loved, respected and relied upon.
In an interview with The Times of London's foreign editor Bronwen Maddox, National Public Radio's host described Obama's trip abroad as having been received like "the second coming of Charles Lindburg."
Even the center-right Washington Times described Obama's trip abroad as "gaffe-free" and "picture-perfect."
But Obama's trip abroad was not "gaffe-free." It was, however, covered that way.
While in Oman, Jordan, in a sit-down interview with CBS anchor Katie Couric, Obama declared that the United States' focus on Iraq meant that American security priorities had "shifted away from the central front of terrorism." At the time, this could have been covered as a gaffe as — following major attacks in Europe in every year from 2004 to 2007 — it would suggest a lack of interest in the threat of international terrorism. Couric declined to ask a follow up and moved on to what Obama felt was his "weakest area of expertise" in foreign policy. Obama's answer to that was to correct an earlier potential gaffe, also covered peripherally, when he said that he was "disorganized."
In Germany, Obama put the government in Berlin in a precarious position when the campaign requested that they address an adoring throng of 200,000 Germans from the Brandenburg Gate. The government hemmed over the appropriateness of such an event – and why wouldn't they? The Obama campaign had essentially requested that the German government abandon neutrality and make a political decision which would favor one or the other American presidential candidates. Eventually, Berlin rejected the Obama campaign's request and set him up in an equally high profile location, but without the historically significant backdrop of Berlin's most recognizable landmark. Had the press covered this potential international incident as a gaffe, it may have marred Obama's successful Berlin address.
Indeed, the New York Times' Christoph Peters noted that average Germans raised "ironic eyebrows" at the notion of a Brandenburg address by Obama "because they find such symbolic and emotionally charged events generally disconcerting." But Peters exonerated the Obama campaign when he speculated that Chancellor Angela Merkel may have simply denied Obama the opportunity because she suffers from "an instinctive sympathy, perhaps rooted in her having grown up in East Germany, for such staunchly right-wing and rather gruff figures of American politics as George W. Bush and John McCain."
Obama found his schedule so overbooked in Germany that he was forced to cancel a visit to wounded American troops in Landstuhl Regional Medical Facility. Republican operatives called Obama on the time he had to meet with European politicians and address fawning crowds, but not for America's troops.
"It was scheduled, we intended to go and we got wind that there was some concern that this might be perceived as political, because we were using campaign resources," Obama told Fox News Sunday in London before leaving for Chicago. "I didn't want it to be a distraction." And like that, the story died.
Ahead of Obama's visit to London – part of the last leg of the trip — to meet then Prime Minister Gordon Brown, the two politicians had engaged in a public disagreement over the danger of broadcasting timelines for the expected drawdown of troops stationed in Iraq. In a joint press conference, Obama had to be prompted by reporters to acknowledge the "special relationship" that has existed between the U.S. and Great Britain for 70 years and stands as a central pillar of American foreign and security policy. How was this reported in CNN? "Obama, Brown discuss special relationship."
Without question, Obama's trip abroad did more for his reputation at home than Romney's trip is likely to do for his. But the coverage of the Romney campaign's gaffes is a matter of intensity of focus. Had Obama' star faded even slightly before his European trip, there is ample evidence that his sojourn into the Old World would not have also been marred by the occasional gaffe.
> >Follow Noah Rothman (@Noah_C_Rothman) on Twitter
Have a tip we should know? tips@mediaite.com