Daily Caller EIC Defends Milo Column By Comparing Him to 'Putin and a Hamas Terrorist'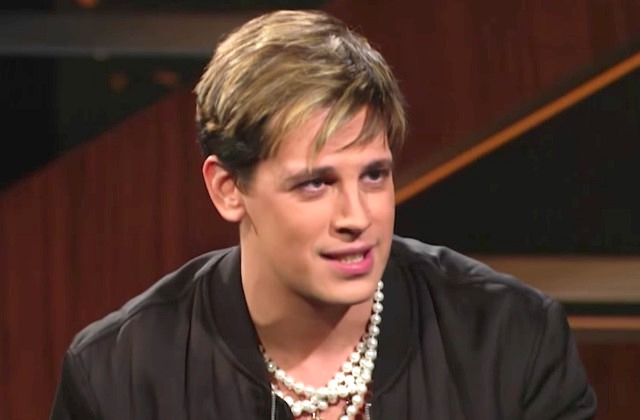 Earlier this week, The Daily Caller decided to publish an op-ed from disgraced former Breitbart tech editor Milo Yiannopoulos. The column was related to the recent sexual harassment and assault revelations about actor Kevin Spacey, including allegations that Spacey targeted young teenage boys, and featured Milo addressing his past statements seen as pro-pedophilia.
"I will always reserve the right to make light of my own experiences at the hands of a Catholic priest in England," he wrote. "I won't allow witch-hunts from Left or Right to silence my voice on this or any other subject."
As you may remember, Yiannopoulos was forced to resign from Breitbart in February over comments that had resurfaced in which he seemed to be defending sexual relationships between minors and adults.
The timing of DC's publishing Milo's column and their decision to bring him on as an opinion contributor is interesting considering that just the day before the column's publication, billionaire Robert Mercer publicly denounced Yiannopoulos and said he was mistaken to have financially supported him in the past. Mercer's announcement followed BuzzFeed's blockbuster report on Milo's connections with white supremacists and how white nationalist voices were given a platform at Breitbart.
In response to questions about why the Daily Caller would provide Milo a platform, editor-in-chief Geoffrey Ingersoll told TheWrap's Jon Levine — a Mediaite alum — that this was akin to the New York Times giving op-ed space to terrorists and Vladimir Putin:
"If NYT can publish the likes of Vladimir Putin and a Hamas terrorist (without informing their audience of his conviction), then we can entertain opeds from Milo, the value of which you can read for yourself," Ingersoll told TheWrap in an email. "Also, he's not reporting for us. There's a distinct difference between the opinion section here and the news section, like most other media outlets."

"Nobody uses Putin's oped to call into question the credibility of Maggie Haberman's reporting. We expect the same standard from our media colleagues," he added.
Following the publication of Milo's first DC column, ThinkProgress' Judd Legum fired off this thread on Twitter about the Daily Caller's decision to bring Yiannopoulos aboard:
1. So the Daily Caller has given Milo a weekly column on their site. But it gets worse https://t.co/2CdBLRsC6r

— Judd Legum (@JuddLegum) November 4, 2017
2. After we published our article, Editor-in-chief of the Daily Caller contacted us w/a VERY important clarification https://t.co/hEJUwfHGMQ

— Judd Legum (@JuddLegum) November 4, 2017
3. He wanted us to know that the Daily Caller was NOT PAYING MILO. As if this makes it better! https://t.co/hEJUwfHGMQ

— Judd Legum (@JuddLegum) November 4, 2017
4. Milo "wrote" an article by soliciting views of white supremacists and having his assistant mash them together https://t.co/hEJUwfHGMQ

— Judd Legum (@JuddLegum) November 4, 2017
5. The Daily Caller's response is: Yes, but we got an excellent deal for his services! It's pathetic. https://t.co/hEJUwfHGMQ

— Judd Legum (@JuddLegum) November 4, 2017
6. The Daily Caller also wants you to know it just asked Milo to write on Spacey. Weekly column was Milo's idea https://t.co/hEJUwfHGMQ

— Judd Legum (@JuddLegum) November 4, 2017
7. The reason they wanted Milo to write on Spacey was he has "experience particular to the case" https://t.co/hEJUwfHGMQ

— Judd Legum (@JuddLegum) November 4, 2017
8. Milo's "experience" was rationalizing pedophilia — that's what got him fired from Breitbart https://t.co/hEJUwfHGMQ

— Judd Legum (@JuddLegum) November 4, 2017
9. The Daily Caller wants credit for CASUALLY promoting Milo. They're just dabbling in the white nationalism biz https://t.co/hEJUwfHGMQ

— Judd Legum (@JuddLegum) November 4, 2017
[image via screengrab]
—
Follow Justin Baragona on Twitter: @justinbaragona
Have a tip we should know? tips@mediaite.com