Democrat Complains About Doing Own Laundry at Shutdown-Protected Congressional Gym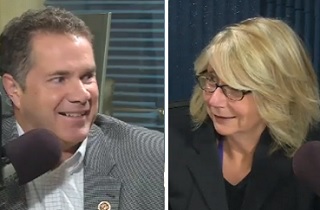 As the effect of the Republicans' government shutdown on military veterans takes center stage, Democratic Congressman Bruce Braley (D-IA) picked the wrong day to complain about the laundry service at the Congressional gym, which was protected from closure in consultation with the office of Speaker of the House John Boehner (R-OH). On Wednesday's Bill Press Show, Braley lamented the movement to close the gym, and explained that "There's hardly anybody working down there. There's no towel service, we're doing our own laundry down there."
Braley first explained that the gym is "one of the few places that Republicans and Democrats actually talk to each other," and that he finds it "ironic that there's this big push to shut down the House gym, when it's one of the rare places people come together and actually talk about how we can build relationships, which is the only way we're going to get out of this mess."
He later commented on the staffing levels at the gym, telling Chicago Sun-Times reporter Lynn Sweet that "They must not have been down to the gym lately. There's hardly anybody working down there. There's no towel service, we're doing our own laundry down there. And we pay a fee to belong to the House gym. So this is no different than if you're working for an employer that offers a wellness program. You pay a fee to belong, that's what we do there."
While Braley's comments are getting all of the attention, Lynn Sweet is the real star of this clip. She asks Braley how much they pay, and he responds that it's about $260. Watch Lynn's priceless reaction as she asks him "A year?"
Braley's point is severely undercut by the fact that all of that towel-snapping wasn't enough to keep Republicans from shutting the government down, and with it Braley's laundry service.
Republicans apparently can't wait to jump on Braley to score partisan points, as evidenced by this statement to TPM:
"Poor Bruce Braley. It's tough to be him," said Brad Dayspring, a spokesman for the National Republican Campaign Committee. "Good Lord. No wonder he's having trouble relating to Iowans."
Tin-eared Democrat or not, Dayspring and his Republican comrades might do well to hold fire, since the decision to protect the gym over military veterans in the first place was made in consultation with Speaker of the House John Boehner's office:
The House gym features a swimming pool, basketball courts, paddleball courts, a sauna, a steam room and flat screen TVs. While towel service is unavailable, taxpayers remain on the hook for cleaning and maintenance, which has been performed daily throughout the shutdown. There are also costs associated withthe power required to heat the pools and keep the lights on.

According to the aide, the decision to keep the gym open — even while other critical government services were shelved — while made by the Architect of the Capitol, but was done with the direct involvement Speaker Boehner's office.
[h/t Wonkette]
Have a tip we should know? tips@mediaite.com