'Dishonest' Media? Underreporting of the Democratic IT Staffer Scandal Validates Trump's Attack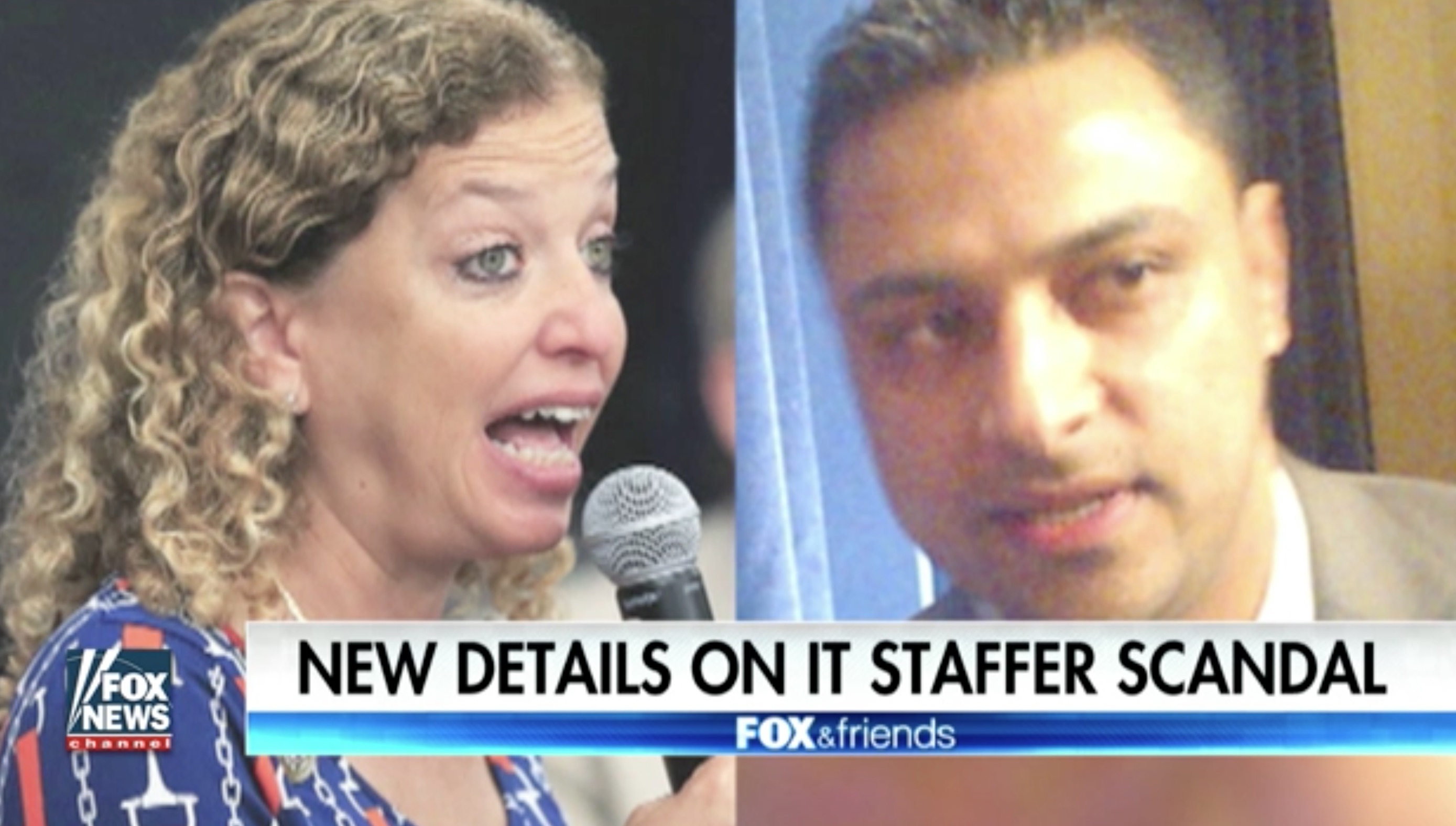 At Tuesday's rally in Phoenix, President Trump slammed what he called the "dishonest media" for how they characterized his statements after the violence that took place in Charlottesville.
Of course members of the media were upset by Trump's latest rally. CNN's Don Lemon called it "unhinged" and later accused him of "trying to ignite a civil war." MSNBC's Lawrence O'Donnell interrupted Trump's speech to tell his audience that the president was "lying about the media." A New York Times reporter compared Trump to a "drunk guy at a bar" and a CNN commentator accused him of having "dementia."
Trump painted this picture to his audience that the media "ignored" his words. They didn't "ignore" his words at all. Even Fox News' Howard Kurtz had to fact check him. What the media did was put emphasis on Trump's "many sides" remark, which many perceived as him spreading the blame of the white nationalist killing Heather Heyer on both the racists and the people protesting the racists, and not on the part when he condemned "hatred, bigotry, and violence." And Trump wasn't being so honest at the rally either since he omitted the "many sides" remark from his retelling of his statement, the same remark that sparked the outrage to begin with. I'm sure most of the people attending that rally didn't notice the omission and Trump was counting on it.
That's where the news media comes in. Simply put, they ought to state the facts, and if Trump said something factually incorrect or intentionally misled the country, it's the responsibility of journalists to refute him with the truth and not with their emotions like they have been.
Putting over-the-top reactions aside, is Trump's argument that the media is "dishonest" valid? Sure, but Trump simply used a poor example. Here's a better one.
A week ago today, the former IT staffer of  Congresswoman Debbie Wasserman Schultz (D-FL) was indicted on four felony counts including bank fraud and making false statements. This was after he was arrested as he was trying to flee the country to Pakistan and after months of numerous investigations surrounding him and his family who have been suspected of double-billing House Democrats for equipment and storing their data (which includes classified information) on non-government approved locations.
If that was all news to you, that's likely because your go-to news source (especially on TV) didn't tell you.
The arrest of Imran Awan received just an ounce of attention. According to the Media Research Center, the story was completely ignored by ABC and NBC while CBS only gave it 37 seconds of airtime. However, you can find articles only of his initial arrest on the websites of ABC News, CBS News, NBC News, CNN, The New York Times, The Washington Post, etc. That's basically it.
Outside of Fox News, none of them have even bothered to follow up with reporting on Awan's indictment, even on their websites! If you type "Imran Awan" in the search bar for  most of these sites, you'll find one article, maybe two. The only other reading material from this particular group of news outlets I came across is a NYT article that tries to dismiss the controversy altogether and a WaPo piece that attempts to just plainly look at the facts but also with the motive to dismiss the controversy. Between those and another WaPo article saying a watchdog group wants Congress to probe Wasserman Schultz, the coverage has been bone dry.
You may be asking why should this story get any more attention or if it's even a scandal at all. The truth is that the circumstances surrounding Awan are suspicious at best and criminal at worst.
Let's go over those circumstances:
1.The Awan Family
Awan essentially formed a group of IT staffers that included his wife, his two brothers and their wives. They served House Democrats for nearly a decade and made hundreds of thousands of dollars in the process. When investigations were underway last February that looked into potential improper behavior, all but Awan lost their jobs (Wasserman Schultz decided to keep him on her payroll until he was arrested in July.). In the spring, Awan's wife Hina Alvi took their children and moved to Pakistan and reportedly had $12,000 in cash at the airport. She was also included in last week's indictment.
2. The (Potentially) Illegal Activity
While it's still being determined if the Awans double-billed House Democrats and stored their data elsewhere for nefarious reasons, a grand jury did indict Imran Awan and Hina Alvi for bank fraud and it may have something to do with the numerous properties they had in the D.C. area. They "sold" properties to his brothers and even on the day of his arrest, he was still liquidating assets as they accepted an offer on one property and listed another property. Seems fishy, right?
3. The Questionable Write-Off From a Dem Rep.'s Office
Earlier this week, it was reported that the office of Rep. Yvette Clarke (D-NY) approved a write-off of $120,000 in missing equipment, something that was flagged by one of the Awan brothers back in February 2016. So instead of reporting the thousands of dollars in equipment to authorities, Clarke's chief of staff wrote it into the budget without having it show up in the audit. And it begs the question why such a write-off was approved to begin with and why it wasn't unearthed until several months later when authorities began looking into the finances of the Awans.
4. Debbie Wasserman Schultz's Curious Behavior
After it was revealed that the DNC deck was stacked against Bernie Sanders during the Democratic primaries in 2016, Debbie Wasserman Schultz was seen by some as a not-so-trustworthy figure in politics. And time and time again throughout this scandal she has reinforced why many continue to mistrust her. Back in May, she literally threatened U.S. Capitol police after they obtained a laptop as part of its investigation into the Awans she said belonged to her, saying "there would be consequences" if she didn't get it back (she will later tell a reporter that the laptop wasn't actually hers). As noted earlier, despite the rest of his family being fired for alleged wrongdoing months ago, Schultz kept Awan on her payroll almost through July. Even after his arrest, the Florida congresswoman defended Awan, which some saw as at least the suggestion that the investigations were racially motivated (he's a Pakistani-born Muslim) and accused the conservative media coverage of Awan of being "completely untrue" despite the reality that everything that has been reported on this by conservative media has been confirmed.
So between the Awan family itself, their suspected activity, a Democrat office's apparent coverup, and Wasserman Schultz's off-the-wall behavior throughout all of this, there is absolutely no reason why this story shouldn't be more widely reported and given the proper coverage.
This seems to be a clear effort by most of the mainstream media to ignore this major news story that continues to develop. I mean for goodness sakes, CNN literally spent more time talking about Treasury Secretary Steve Mnuchin's wife's Instagram page than talking about Imran Awan and his alleged crimes. Now that's pathetic. No wonder why people keep chanting "CNN sucks" at Trump's rallies.
Such a journalistic oversight wouldn't be so bad had the media not obsess over the ongoing Russia investigation for the past eight months. Despite all the players involved and the conspiracy theories that have been floated, no one has yet to be indicted for alleged "collusion." And now since it has been weeks without any sort of Russia-related bombshell, the media is getting desperate like a junkie waiting for his next fix. They would rather focus on obnoxious Instagram posts and Confederate statues than to shed light on the possible corruption within the Democratic Party.
If Trump wants to win this war he has with the "dishonest media," he should reconsider his tactics. Instead of dedicating nearly an entire rally rehashing his Charlottesville remarks, he should try out some new material. Perhaps it will take a bombastic, unpredictable president to force the media to do its job for once.
This is an opinion piece. The views expressed in this article are those of just the author.