Former Trump Aide Told Journalist Corey Lewandowski and Hope Hicks Were 'Secret Lovers'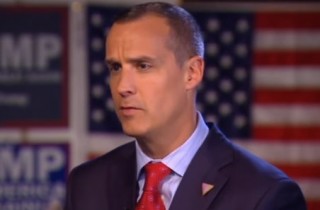 A week before the news broke that Donald Trump was seeking legation action against a former staffer for going to the press about an alleged affair between two unnamed Trump staffers, a journalist reported that another former staffer tried to convince him that former campaign manager Corey Lewandowski and press secretary Hope Hicks were secret lovers.
The Associated Press report on Trump's claim against Sam Nunberg doesn't name any names, but it also isn't terribly subtle. AP reports that "Nunberg accuses Trump of trying to silence him 'in a misguided attempt to cover up media coverage of an apparent affair' between senior campaign staffers," and then reports that 'the document cited a New York Post story about a public quarrel between the staffers published last month.' The only staffers who had a quarrel reported on by the Post were Lewandowski and Hicks.
But earlier this month, The Daily Mail's David Martosko revealed that former Trump staffer Roger Stone was also trying to spread rumors of an affair. Martosko was speculating about Trump's choice of running mate, when The Daily Caller's Alex Pappas asked him whether his source was Stone.
"God no," Martosko responded. "Not since he tried to tell me Corey L. and Hope H. were secret lovers."
@dmartosko @SopanDeb Someone has been talking to Roger Stone…

— Alex Pappas (@AlexPappas) July 4, 2016
@AlexPappas @dmartosko @SopanDeb God no. Not since he tried to tell me Corey L. and Hope H. were secret lovers.

— David Martosko (@dmartosko) July 4, 2016
After the news of the Trump claim broke, Martosko confirmed that Stone tried to convince him the Post article was about a lovers' quarrel.
@VileStyle @AlexPappas @SopanDeb that's what Roger Stone tried to convince me of

— David Martosko (@dmartosko) July 13, 2016
[Image via screengrab]
——
>>Follow Alex Griswold (@HashtagGriswold) on Twitter
Have a tip we should know? tips@mediaite.com