Fox News Audience Grows Among Republicans And Independents; CNN And MSNBC Down In All Categories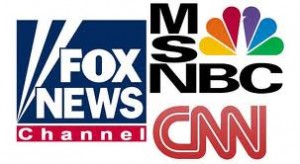 Pew is out with their annual look at how news consumers get their information, with several interesting breakdowns across various forms of media.
But one category that sticks out is which cable news network plays a "significant role in people's news habits" – not surprisingly, FNC grew year-to-year but CNN and MSNBC were down, even among Democrats.
From the study:
Overall, cable news continues to play a significant role in peoples' news habits – 39% say they regularly get news from a cable channel. But the proportions saying they regularly watch CNN, MSNBC and CNBC have slipped substantially from two years ago, during the presidential election.

Only Fox News has maintained its audience size, and this is because of the increasing number of Republicans who regularly get news there. Four-in-ten Republicans (40%) now say they regularly watch Fox News, up from 36% two years ago and just 18% a decade ago. Just 12% of Republicans regularly watch CNN, and just 6% regularly watch MSNBC.

As recently as 2002, Republicans were as likely to watch CNN (28%) as Fox News (25%). The share of Democrats who regularly watch CNN or Fox News has fallen from 2008.
It says a lot about how far FNC has come that it has completely taken over the Republican news audience. It was an entirely different time when CNN had more Republicans regularly watching the network than FNC just eight years ago.
Overall, FNC held at 23% from two years ago, while CNN declined 6% to 18% and MSNBC was down 4% to 11%. It wasn't just Republicans that increased over the last survey for FNC. 20% of Independents say they watch Fox News regularly, but Democrats were down 6% to 15%. CNN and MSNBC declined among all political persuasions – CNN dropped eight points among Democrats.
There's also a breakdown of age, that yields some typical results:
Most of those who regularly watch O'Reilly (63%) and Hannity (65%) are 50 or older; 44% of the public is 50 or older. By contrast, the Daily Show and Colbert Report have the youngest audiences of any outlet included in the survey. Large majorities of those who say they regularly watch the Colbert Report (80%) and the Daily Show (74%) are younger than 50; 55% of public is 18 to 49.
They also break down news viewership based on particular positions – tea party activism, NRA support, gay rights. The only surprising top five was for those who identify with a "libertarian" position – Wall Street Journal is #1 (at 33%), followed by Colbert Report and Glenn Beck. It's one of the most diverse lists in the entire survey.
—–
» Follow Steve Krakauer on Twitter
Have a tip we should know? tips@mediaite.com