NYT Reveals Obama Was Warned Of 'Major Terrorist Plot' To Attack Inauguration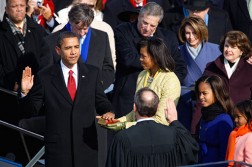 Wow. Twitter is all lit up this morning over Peter Baker's upcoming NYT Magazine article 'Inside Obama's War on Terrorism.' And for good reason: it is a bit of a game changer in a couple of respects. Mediawise, it's interesting to note that the piece has gone live online almost two weeks before readers will see the print version. That's right. The story was apparently penned for the January 12 edition of the Magazine but was crashed over the holiday and rushed online this morning. Once you read it it's easy to understand why. This is the sort of piece that will likely have a measurable affect on Obama's image as a president able to deal with the terrorism issues of the day. Having it go live on his first day back in Washington is a huge coup for everyone involved.
As far as President Obama is concerned it will be fascinating to see how the piece changes the tone of last week's finger pointing. There seems to be a sense that the President is returning to a different Washington than the one he left less than two weeks ago. Not so much. According to Baker's must-read article (seriously, make time for this piece) Obama has been dealing with significant terrorist threats since before he even became President, including a serious one aimed directly at himself, the First Lady, and their daughters on Inauguration Day last January. You read that correctly. This is clearly not a man oblivious to the threats facing the country. Some nuggets:
>>>NEXT: Obama in danger on the podium?
Have a tip we should know? tips@mediaite.com