George W. Bush Is Reportedly Worried About Being the 'Last Republican President'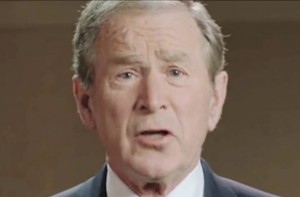 George W. Bush seems to be subscribing to the "Oh God the Republican party is going to explode this year" line of thinking.
A new report from Politico this week provides some detail about an April reunion with up to 1000 members of the Bush administration, in which they grimaced about the fact that they were down to Ted Cruz and Donald Trump as their two choices in the primary.
And then this amazing moment happened:
In a more intimate moment during the reunion, surrounded by a smaller clutch of former aides and advisers, Bush weighed in with an assessment so foreboding that some who relayed it could not discern if it was gallows humor or blunt realpolitik.

"I'm worried," Bush told them, "that I will be the last Republican president."
Bush is not the only Republican who's worried about the Republican party being permanently damaged after this election. Many #NeverTrump Republicans have insisted for months that Trump would bring untold disaster to the party and risks hurting them nationally for his controversial and divisive attacks.
None of the Bushes are attending the Republican National Convention this week. According to The New York Times, the former president "planned to be on his Crawford, Tex., ranch, painting and bike riding" while Trump was being nominated.
Former Bush campaign chair and ex-RNC chair Marc Racicot told the Times, "I'm very fearful for my republic. I thought my fellow citizens would exercise the judgment to steer the country in the right direction."
[image via screengrab]
— —
Follow Josh Feldman on Twitter: @feldmaniac
Have a tip we should know? [email protected]
Josh Feldman - Senior Editor