Giuliani Continues Anti-BLM Rhetoric: 'I Saved a Lot More Black Lives Than Black Lives Matter'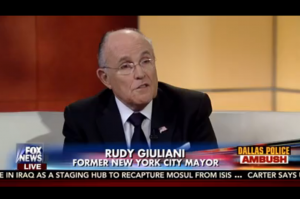 On Monday morning, former New York City Mayor Rudy Giuliani joined Fox & Friends to offer a clarification of sorts about his controversial commentary from one of the Sunday shows where he targeted the #BlackLivesMatters movement. While speaking on Face the Nation Sunday, Giuliani called the movement "inherently racist," noting that young African American children need to be taught, "to be respectful to the police."
And when given the floor to explain himself on Monday, Mr. Mayor only doubled down. "It's inherently racist because it divides us. All lives matter," he offered to Steve Doocy, Ainsley Earhardt, and Pete Hegseth. He also attempted to swat down suggestions that as mayor of the Big Apple, he was not directly involved in the saving of black lives.
"I saved more black lives than anyone in the history of the city. I took over the city with 1,924 murders; I gave it to Mayor [Mike] Bloomberg with 500+ murders. 75% of the people saved during that time were African American," he told the cohosts of Fox & Friends. "I believe I saved a lot more black lives than Black Lives Matter. I don't see what Black Lives Matter is doing for blacks other than isolating them. All it cares about is the police shooting of blacks. It doesn't care about the 90% of blacks that are killed by the blacks. That is a simple fact."
Giuliani also went as far as to criticize the movement for its lack of presence in communities such as Chicago, where black-on-black crime is, "the predominant way a black person is killed."
"I understand the other side," he said regarding the sentiment that many African Americans in this country feel disproportionately targeted by law enforcement as a result of their race. However, as Fox News pointed out on Monday in multiple blocks of programming, the mainstream media has been quick to only cover this as a race issue. "Black Lives Matter puts a target on the back of police," said Giuliani.
"Don't tell me I don't care about black lives!" he continued Monday morning.
Watch the above clip from Fox News.
—
J.D. Durkin (@jiveDurkey) is an editorial producer and columnist at Mediaite.
[image via screengrab]
Have a tip we should know? tips@mediaite.com