Glenn Beck Demands ABC News Apologize For Reporting He Depicted Mike Bloomberg Delivering Nazi Salute
Beck Demands ABC Apologize For Reporting He Depicted Mike Bloomberg Delivering Nazi Salute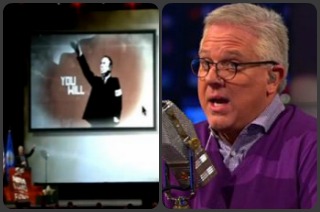 Conservative radio host Glenn Beck demanded that "the mainstream media" apologize to him on Tuesday after reports claimed that he depicted New York City Mayor Mike Bloomberg delivering a Nazi salute in his address to the National Rifle Association. Beck and his hosts savaged the media for incorrectly claiming that Beck had lifted the theme form Nazi imagery when it was, in fact, Soviet propaganda art. He added that it's "weird" that the media does not seem to be outraged by the reproduction of communist iconography from the 20th Century in spite of the murderous history of Soviet-style regimes.

RELATED: Glenn Beck Delivers Keynote Address At NRA Convention
ABC News reported that Beck "aroused criticism by a major Jewish group for depicting the mayor giving a Nazi salute." Anti-Defamation League director Abraham Foxman said that Beck was "implying through an image of Mayor Bloomberg in an apparent Hitlerian salute is that the mayor's policies on gun ownership and other issues are turning New York city into a Nazi-like state."
"I would like to call for an apology now by the mainstream media, particularly ABC News, for smearing my name and saying that I am making Bloomberg look like a Nazi," Beck said on his Tuesday radio program.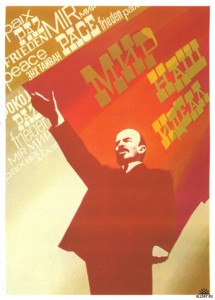 "Nobody is actually really upset," Beck added. "ABC has just exposed themselves as reading Media Matters." Becks said that only the liberal media watchdog group had picked up on that story prior to ABC's report.
Beck and his co-hosts determined that the imagery they were attempting to invoke was early 20th Century socialist iconography of Soviet origin.
"I hate to do this to you, ABC News, but what you stop taking your stories directly from Media Matters, you might begin to have a little bit of credibility," Beck continued. "I'm sorry this looks to you like Adolph Hitler, but this was actually the exact image ripped off Soviet propaganda art – who also killed a lot of people, yes. But you guys never seem to have a problem with Lenin. You never seem to have a problem with Mao. You never seem to have a problem with Stalin. Isn't that weird?"
Watch the video below via The Blaze TV:
> >Follow Noah Rothman (@NoahCRothman) on Twitter
Have a tip we should know? tips@mediaite.com