Glenn Beck Totally Fine With Greta Hoping He Moves The Location Of 8/28 Rally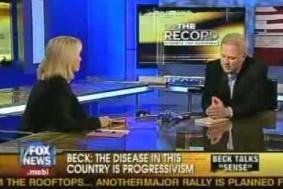 Glenn Beck wanted to be clear to his radio audience today: he and Greta Van Susteren are pals. They're not "picking out curtains or anything," but he's totally fine that she thinks he should move the location of his 8/28 event.
He's not going to, but he explained why this sort of disagreement is a good thing.
"The left just assumes that I'm going to be all upset at Greta or that Greta's going to upset at me," he said today. "I like Greta, Greta likes me."
He continued:
Sometimes you're one way, sometimes you're another way, you're issue-dependent because you're on principles. So I just don't understand how Fox can only be monolithic in its nature.
It would take someone who has never seen Fox News to think their opinion hosts, of which Greta can only be loosely counted as, are in lockstep agreement on every issue. In many ways, Beck and Sean Hannity represent the two different segments of the current Republican party, and Bill O'Reilly has opinions, and a focus, that is all over the map. While Greta and Beck share a fascination with Sarah Palin, they certainly aren't politically on the same page. Actually, maybe Greta can ask Palin what she thinks of the location of the 8/28 rally, considering she is currently with the former Alaskan governor and Palin will be with Beck on 8/28.
The interest here stems from both the public nature of Greta's disagreement (on her blog) and her comparison to the Ground Zero Mosque controversy. It is this comparison that got her commenters up in arms.
Meanwhile, Beck says "I wouldn't have picked the day," (Dr. Martin Luther King's "I Have A Dream Speech" was also 8/28) – a point Beck has made before, including in a segment with Don Imus this morning.
Either way, all plans are a go for 8/28. Here's the audio:

—–
» Follow Steve Krakauer on Twitter
Have a tip we should know? tips@mediaite.com