Hey Guess Who Won Bill O'Reilly And Jon Stewart's Debate Per A BillOReilly.Com Poll? (Update)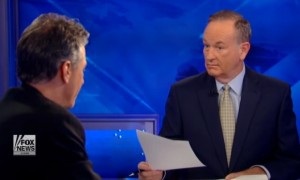 On Monday night Bill O'Reilly invited Daily Show host Jon Stewart on his show to discuss and debate the alleged controversy surrounding last week's White House performance by Common. As is often the case, at the end of the segment that aired Monday, O'Reilly asked his viewers to vote in a poll at BillOReilly.com and adjudge "Who had the stronger argument regarding Common at the White House?" between the two cable news personalities. The results may surprise you!
One might think that since the overwhelming traffic that arrives at a site titled BillOReilly.com would have a predisposition to vote for…well, Bill O'Reilly. But as one can see in the screencap below, the vast majority of those who partook in the poll believed that it was Jon Stewart that had the stronger argument, coming in at 79% to O'Reilly's 21%.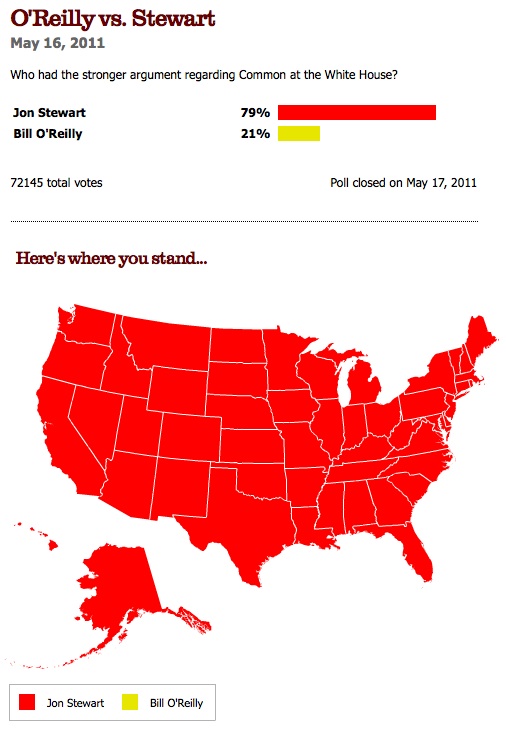 After O'Reilly announced the poll, some skeptics may have thought that the poll would be rigged. In fact, commenters on the social news website Reddit almost immediately derided any online poll that doesn't provide instant results for fear that O'Reilly would "reveal" any results he wanted. But those skeptics must now begrudgingly respect the work of O'Reilly or at least those who run his website.
This is the reason that Bill O'Reilly has become a respected iconoclast in a sea of predictable opinion media personalities currently on cable news, and perhaps the reason why he is often so dominant in the ratings. Credit where its due: the element of surprise is a often overlooked characteristic in cable news, and O'Reilly's willingness to play against the two-dimensional caricature (as he is so often portrayed by his detractors) is just part of the reason O'Reilly is so influential.
Update: It appears that that Reddit voters took over this particular poll to ensure a victory for Stewart. And while its clear that there was an effort to drive Reddit traffic to the poll.
(H/T Reddit)
Have a tip we should know? tips@mediaite.com