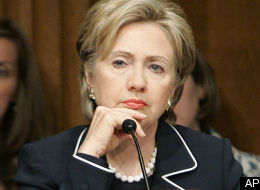 Her name has definitely been coming up. I'm not sure how likely it is that President Obama would tap current Secretary of State Hillary Clinton to fill the Supreme Court spot being vacated by Justice Stevens when he retires, or whether Clinton would be at all interested in taking it — she has said that after her current role ends she plans to retire. But, wow, it would be a fascinating pick, and one I imagine would have a much easier time getting Senate confirmation than…well, just about anyone else. Also, not that there's really much likelihood of this, but should Clinton be harboring even the smallest ambition to run again in 2012 an appointment like this would take care of that, also. Moreover, it seems she's a name on a couple of people's list.
Says Ezra Klein:
I'm also of the opinion — though lots of others on Twitter aren't — that the Senate is likely to be friendlier when confirming one of its own. But the real question, of course, is who? I've always been partial to the idea of seeing Hillary Clinton appointed to the Supreme Court. She's got a law degree, of course. She's practiced law, practiced politics and practiced statecraft. She's been present in both the executive and the legislative branch. She's done an enormous amount of retail politics, which I think is useful. She's smart and hardworking and has proven herself adaptable to a wide range of institutions. The counterargument I got on Twitter is that she's controversial, but I'm not sure I really believe that anymore. She's well-known, and many Republicans in the Senate like her personally.
And now this from Joe Scarborough on why Clinton should be considered for the Court:
"I think Hillary proved herself to be pretty darned mainstream when she was running against Barack Obama – they kept painting her as being TOO conservative."
I'm not sure a Supreme Court confirmation hearing can ever be considered must-see TV, but a Clinton nomination might make it so.
Have a tip we should know? tips@mediaite.com