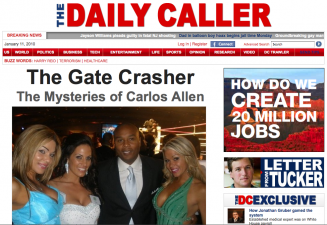 January 11, 2009 marks the launch of what the right wing internet has been anxiously awaiting: Tucker Carlson's The Daily Caller a.k.a. the conservative answer to The Huffington Post. Upon first glance, The D.C. (coincidence?) looks sharp and leads with a marquee story probably hoping to set the tone for the site. In a large, two-tone font: "The Gate Crasher: The Mysteries of Carlos Allen." But how's the online peanut gallery reacting?
(Let's just first apologize to The New Republic's online literary section, also launching today. It's like rain on your wedding day?)
But back to Carlson and The D.C.: The Guardian puts them in good (read: profitable!) company already, as "the third Washington-based news site besides Politico and TalkingPointMemo." Plus: "The welcome note from Arianna Huffington wishes "Happy linking" and claims the distinction between right and left being a leftover of an outdated mainstream media approach."
MediaMatters, predictable, not enthused: "Not an auspicious beginning for Carlson's new right-wing news site," they write, before slamming a Drudge-like misleading headline.
MediaBistro, meanwhile, has comment from Carlson, who calls the site "straightforward." He promises they're not out "to grind any axes, or in reaction to any other site. We just think there isn't enough coverage of politics and government, so we're going to add some." PaidContent has an interview with the site's founder as well.
As for the Twittersphere, reviews are decidedly mixed.
Gundisalvus: Daily Caller shows again that mix of opinion, reporting is new journalistic formula http://dailycaller.com

LibbySpencer: Just looked at The Daily Caller. Ha Ha Ha Ha… Rog must be popping champagne. It makes PJ Media look good.

Expatina: The Daily Caller's slogan today could be: All Harry Reid, All the Time. (yawnnnn)

Delrayser: Good to see the Daily Caller has learned the lessons of HuffPo. Launch day & the front page is already full of cleavage.

Anamariecox: Two most popular items on Daily Caller site are by its chief competitors (Arianna an Breitbart.) Smart stunt casting or bad sign? Both?
From one recent launch to another: good luck, D.C. See you out there!
Have a tip we should know? tips@mediaite.com