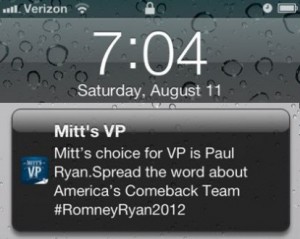 For weeks, Mitt Romney and his presidential campaign showed ninja discipline in referring questions about his eventual VP selection to their exciting iPhone app, which would let supporters know about the pick before the press. Like then-Sen. Barack Obama's text-messaging scheme before it, the iPhone app was badly beaten to the punch by the Lamestream Media™, but this time, the press got a big assist from Team Romney.
Just before midnight Friday night, various media outlets began reporting sources that said Romney's running mate would be Rep. Paul Ryan (R-WI), and shortly after midnight, NBC News' Chuck Todd became the first to break the news as confirmed. Seven long hours later, those iPhone app-ficionados got their promised niotification, followed quickly by a press release from the Romney campaign.
As Lamestreamers ourselves, there's nothing we would like more than to take full credit for scooping the iPhone, and the media certainly put in a herculean effort. Just as they did in 2008, various news organizations maintained surveillance on a short list that included Ryan, Sen. Rob Portman of Ohio, former Minnesota Governor Tim Pawlenty, and Louisiana Governor Bobby Jindal (dark horse Chris Christie is visible from space, anyway). That surveillance (which paid off in 2008) ultimately proved futile, as Ryan slipped out the back way undetected this morning.
However, right before all of that reporting started happening Friday night, the press got a hint about as subtle as habañero eyedrops. The Romney campaign sent the following email just after 11pm:
date: Fri, Aug 10, 2012 at 11:11 PM
subject: MITT ROMNEY ANNOUNCES VICE PRESIDENTIAL CANDIDATE IN NORFOLK SATURDAY

Boston, MA – On Saturday, Mitt Romney will begin his "The Romney Plan For A Stronger Middle Class" bus tour by announcing his choice for Vice Presidential candidate in Norfolk, Virginia. The following events are open to the press. Please note that the tour of the USS Wisconsin and Homemades by Suzanne drop by are pool coverage.

Saturday, August 11, 2012

Event: Governor Romney Tours USS Wisconsin

Location: USS Wisconsin
1 Waterside Drive
Norfolk, Virginia

Program Time: 8:45 AM EDT
Whether they meant to let the cat out of the bag or not, once the Mitt Romney campaign announced the USS Wisconsin as the site of the announcement, there couldn't have been much else they could do but confirm the news. That, or try to convince reporters that it was someone other than Ryan, and they were doing it at the Wisconsin to really rub his nose in it.
Now, they did need to give the press enough notice to ensure the announcement would be covered, but then they could have selected a location that wasn't a dead giveaway, or they could have made good on their promise, and made the iPhone announcement at 11pm Friday. Instead, we got another social media VP fail.
Have a tip we should know? tips@mediaite.com