I Never Felt 'Tempted to Throw Somebody Out of the Room': Josh Earnest Throws Shade at Spicer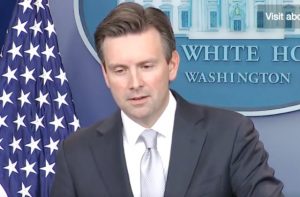 One of the big takeaways from yesterday's press conference by President-elect Donald Trump was the shout fest between Trump and CNN's Jim Acosta, with the incoming POTUS calling the reporter "fake news" while refusing to let him ask a question.
After the news conference — Trump's first since late July — Acosta explained that he was approached by soon-to-be White House Press Secretary Sean Spicer and told that he'd be thrown out of the room if he persisted. Spicer later took to Twitter to criticize Acosta and demand an apology, saying Acosta was rude and disrespectful.
During today's White House briefing, current White House Press Secretary Josh Earnest rebuked Spicer's actions while noting that tossing someone from a press conference is something he'd never thought to do.
"I can never recall a scenario in which I was tempted to throw somebody out of the room," even when he was most frustrated with a reporter, Earnest said at the afternoon's daily briefing. "I can certainly say that that's not something I ever threatened to do, even if the thought crossed my mind."
He also seemed to lay the tense and chaotic nature of the news conference at the feet of Spicer, who started the event by delivering a statement condemning Buzzfeed for the release of an unsubstantiated dossier.
"And I think you'd be hard pressed to make the case that many of the speakers…didn't invite a little conflict and friction," Earnest said. "There's some pretty tough, even outrageous claims that were made. And so it's not hard to see how that kind of environment is shaped by the people who organize the event."
He added that Trump and his staff likely felt they would "benefit from a pretty raucous environment."
[image via screengrab]
–
Follow Justin Baragona on Twitter: @justinbaragona
Have a tip we should know? tips@mediaite.com