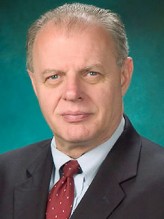 Depending on whether you are more worried about Facebook, Russian hackers, or the U.S. government playing the role of Big Brother this will either come as reassuring news, or be just plain worrisome. President Obama has just named a new Cybersecurity Coordinator, or in the lingo of Glenn Beck, a Cyber Czar!
Here's the email that landed in my inbox early this morning (which I at first mistook based on the subject line 'Security in the Digital Age', to be a missive from Nigeria).
The White House, Washington

Dear Friend,

Cybersecurity matters to all of us. Protecting the internet is critical to our national security, public safety and our personal privacy and civil liberties. It's also vital to President Obama's efforts to strengthen our country, from the modernization of our health care system to the high-tech job creation central to our economic recovery.

The very email you are reading underscores our dependence on information technologies in this digital age, which is why it seemed like a fitting way to announce that the President has chosen Howard Schmidt to be the White House Cybersecurity Coordinator. Howard will have the important responsibility of orchestrating the many important cybersecurity activities across the government.

Howard is one of the world's leading authorities on computer security, with some 40 years of experience in government, business and law enforcement. Learn more about Howard's background and approach to cybersecurity:

Howard will have regular access to the President and serve as a key member of his National Security Staff. He will also work closely with his economic team to ensure that our cybersecurity efforts keep the Nation secure and prosperous.

Moving forward we will use WhiteHouse.gov, this email program and our other communications tools to keep you posted about our progress in this important area.

Sincerely,

John O. Brennan
Assistant to the President for Homeland Security and Counterterrorism

P.S. You can play an important role in cybersecurity as well. Learn more about the issue and steps you can take to ensure your own security.
A bit more on Schmidt, who may or may not now be the person closely following your Twitter. He has had a 40-year career including local and federal government service, as well as a post as vice chairman of President George W. Bush's Critical Infrastructure Protection Board. He also was "for a short time an adviser to the FBI and worked at the National Drug Intelligence Center" and is a former eBay and Microsoft executive. Also? He said yes to the job after "a rocky selection process that dragged on for months, as others turned the job down." Hard to imagine why.
For some strange reason I might feel better about this selection had they plucked some twenty-something from Silicon Valley (maybe because this picture looks like it came out of some Nixon-era archive). Or not. Either way, it's probably good someone is there to handle the turning on and off of the Internet, perhaps he can keep the Russian hackers away from Twitter from now on.
Have a tip we should know? tips@mediaite.com