It's 'Utterly Responsible': Chris Wallace Responds to Report on Investigation Into Russian Hacking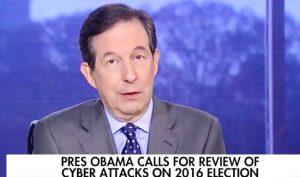 At the request of President Barack Obama, the American government's intelligence community is performing a full review of the "cyber attacks that did or did not happen" during the election, according to Fox News' Bill Hemmer. The report is set for release before Obama leaves office next month, which caused Hemmer to question whether he and the intelligence community know something with some certainty and are moving to act on it fast.
There has been a lot of debate over whether or not Russian hackers were behind hacks of the emails of the Democratic National Committee, John Podesta, and Colin Powell. If Russian hackers are behind those attacks, it will mean that Russia was invested in swaying an American election and might even have really accomplished doing it. Foreign interference would undermine the democratic principles of the country, to say the very least.
There are, of course, those who swear Russia had nothing to do with it. Among them is President-elect Donald Trump, whose relationship with Russia has been a confusing and ever-present plot point throughout the last year and a half.
Chris Wallace told Hemmer, however, that looking into Russia's involvement isn't a bad political move. In fact, it's "utterly responsible."
He pointed out that the intelligence community believed Russia could be involved for weeks before the election, but mentioned that it wouldn't have looked good if they'd pursued the investigation then. Now that the election is over, there is no issue in finding out "just how many Russian finger prints were on this effort."
[image: screengrab]
Have a tip we should know? tips@mediaite.com