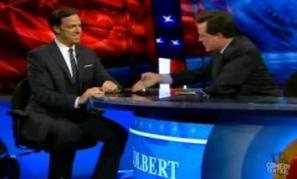 Stephen Colbert turned the attention of Colbert Nation to This Week interim host Jake Tapper's recent changes to the show – specifically the new fact-check (and David Gregory's rejection of the idea).
The ABC anchor was in studio for an interview, and to defend Sunday shows in general.
Before turning to Tapper, Colbert took NBC's Meet the Press anchor Gregory to task for his dismissal of the fact-check idea ("people can fact-check Meet the Press every week on their own terms," said Gregory). "A fact-check on Wednesday?" asked Colbert. "Is he really suggesting David Gregory work two days a week? If it's Sunday, it's Meet the Press. Every other day, it's me time."
He then laid out the case for why a fact-check is needed on Sunday, with a compilation of Sunday show guests from all across the political spectrum throwing out "facts" and ending their sentences with "or something like that." Then it was time for Tapper, who called himself the "first line of defense" when it came to fact checking. Colbert gave his take on what these guests get out of going on Sunday shows – "to drive through their ideas through repetition." (He then put that theory in practice as only Colbert can.)
"You're right, they come on these shows, and too often these guys and gals get away with saying the things that are not factual," said Tapper.
So, asked Colbert, "what purpose do you think the Sunday shows serve?" Tapper: "To elucidate, to provide information for the viewer so they can determine what's going on in Washington."
It was a big opportunity for Politifact too, as editor Bill Adair sat across the desk from Tapper and fielded a few of Colbert's questions as well. Obviously, it's clear Colbert is Team Tapper.
Here's the full segment:


—–
» Follow Steve Krakauer on Twitter
Have a tip we should know? tips@mediaite.com