Jake Tapper Launches Twitter Campaign to Get Sarah Palin as Guest on This Week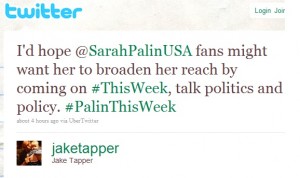 On his uber-popular Twitter feed this morning, ABC News' Jake Tapper launched a campaign to entice former Alaska Governor Sarah Palin to "broaden her reach" by appearing on This Week. There's no question that ABC's Sunday morning talk show would be the perfect forum for Palin to reach beyond her loyal base, but will she do it, and will Fox News let her do it?
I asked Jake why he has chosen Twitter as the vehicle to entice Palin onto his show: (via email)
"We've been trying for sometime now to have Gov. Palin as a guest on This Week, so far to no avail. Knowing how connected she is to the internet and how responsive she is to her supporters, I thought appealing to her on twitter might work. We'll provide a fair forum for her to share her thoughts on politics and policy; I hope she comes on."
Under Tapper's interim host-ship, This Week has implemented several innovations, the most buzzworthy of which is their partnership with Pulitzer winning fact-check website Politifact. The show has also made ratings inroads against its competition, once again gaining to 2nd place last week ahead of CBS' Face the Nation. A Palin appearance would be a huge win for This Week, but it could also benefit Palin tremendously.
Since the end of the 2008 campaign, Palin has generally avoided appearing on any non-conservative outlets (some would say with good reason). She has managed to stay in the spotlight as a Fox News contributor, and by using her Facebook account as the world's most cost effective and powerful PR tool ever.
However, if she hopes to narrow a credibility gap that even has conservatives questioning her ability to lead, Sarah Palin could not ask for a better crucible than Tapper's This Week. As ABC's Chief White House Correspondent, Jake Tapper has developed a hard-earned reputation for being tough but fair, from the left and the right. If Palin can handle Tapper's questioning, and pass This Week's Politifact test, it would go a long way in silencing her critics.
Spurning Tapper's invitation would be an awkward proposition for Palin. Much of her rhetoric centers around the unfair treatment she feels she has received from "lamestream media" types like Katie Couric. This is a chance for her to set the record straight, and with a reporter who carries the Rush Limbaugh seal of approval. It's tough to think of an excuse for her not to do it.
Of course, Palin does have a built-in "out." Since she's under contract to Fox News, the network would have to approve such an appearance. If she doesn't want to venture out of the conservative media bubble, she can just claim that Fox wouldn't let her. While few would buy such an excuse, it would allow her to save face.
The bottom line, though, is that if Sarah Palin wants to broaden her appeal, whether as a candidate for office or a media superstar, she honestly could not ask for a better opportunity to do so. Deserved or not, Palin is the subject of hostility from many in the media, but with Tapper, I think everyone would agree she will get a fair shake, and so will we, the public.
Have a tip we should know? tips@mediaite.com