Joe Biden Admits He Advised President Obama Not To Carry Out Bin Laden Raid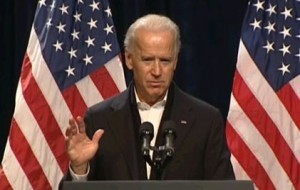 Vice President Joe Biden spoke to a conference of House Democrats in Maryland today, and in discussing the SEAL Team raid that successfully took out Osama bin Laden, he admitted that he advised President Obama not to carry out the mission because "we have to do more things to see if he's there." The vice president gave an insider account of the internal discussions in the White House before the order was officially carried out.
RELATED: President Obama: 'Ask Osama Bin Laden Whether I Engage In Appeasement'
Biden praised the president for having a "backbone like ramrod" before giving a point-by-point recollection of everything that happened in the final day before Obama gave the SEAL team its orders.
"The President, he went around the table with all the senior people including the Chiefs of Staff. He said, I have to make this decision what is your opinion. He started with the National Security adviser, the Secretary of State and he ended with me. Every single person in that room hedged their bet, except Leon Panetta. Leon said GO. Everyone else said 49, 51, this…

It got to me. Joe what do you think? I said 'You know I didn't know we have so many economists around the table. We owe the man a direct answer. Mr. President my suggestion is don't go. We have to do two more things to see if he's there.'"
Biden said that Obama left that night promising to make a decision, and the next morning returned to the White House and made the order official. Biden credited Obama for understanding everything that was at stake when he gave the order, and took the opportunity to dispute a common Obama talking point.
RELATED: Jon Stewart Reviews The State Of The Union: 'You Opened With I Killed Bin Laden?!'
"This guy doesn't lead from behind. He just leads. And that's clear."
Watch the video below, courtesy of Fox Nation:
h/t Fox Nation
Have a tip we should know? tips@mediaite.com
Josh Feldman - Senior Editor