John Podesta Calls Comey Firing 'Laughable,' Continues to Blame Comey For Clinton Election Loss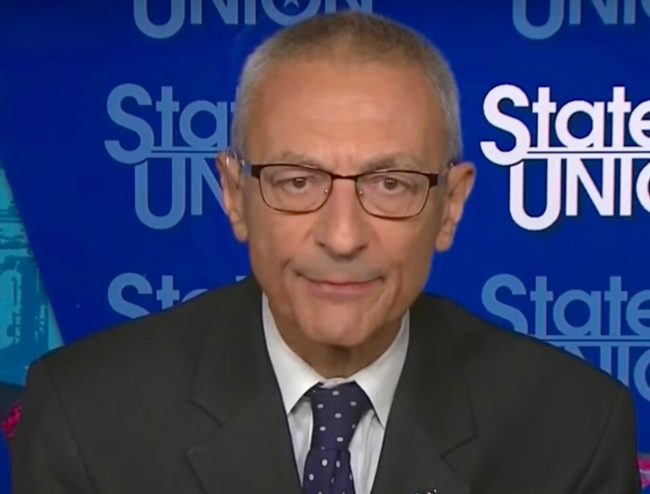 Hillary Clinton campaign chairman John Podesta is still smarting from his candidate's election loss.
In a lengthy interview with Politico, Podesta seemed to hold nothing back in ripping President Donald Trump  — who has, in Podesta's view, made some "absolutely crazy" moves during his administration.
One of those moves, according to the Clinton campaign chairman — whose hacked emails became public fodder last October — was the firing of FBI Director James Comey. Podesta doesn't even remotely buy the idea that Comey was dismissed because of his handling of the Clinton email investigation.
"It's laughable, really laughable that Donald Trump would fire Jim Comey because of his interference which damaged Hillary Clinton," Podesta told Politico. "I mean, it was laughable from the very beginning."
Politico's Susan Glasser then asked Podesta, point blank: "Do you think that [Comey's interference] did help to swing the election?"
His response?
Oh, yes. Absolutely. I think that — look, we bear responsibility, and it's a great burden and I feel it every day. I mean, we lost this election; we won the popular vote by 3 million votes, but we lost the Electoral College and lost the election to Donald Trump. So, we have a burden of his having the keys to the White House, and you know, codes to the nuclear football. But I think this was a significant factor. We felt like we had a lead that we took away from the three debates, in which, you know, I believe that Hillary won all those debates. The race was tight; we weren't overconfident, but we were—we had a lead, and that lead really substantially narrowed after Comey's letter, and the last week of coverage, which was all about if nothing else, is this thing going to ever end? Now, you know, he—what he opened, he closed, as I said, just a week later. But he could have done that quietly, and consistently with long-standing precedent, of both Democratic and Republican Justice Departments.
Podesta's response mirrors that of his candidate's, who said at a forum last month that she takes "personal responsibility" for the loss, before going on to blame external factors such as Comey and not actually detailing any specific campaign failings.
"I think, you know, if those 70,000 votes had gone differently in Pennsylvania, Wisconsin, Michigan, that we would have all been geniuses," Podesta told Politico.
[image via screengrab]
——
Follow Joe DePaolo (@joe_depaolo) on Twitter
Have a tip we should know? tips@mediaite.com
Joe DePaolo - Senior Editor