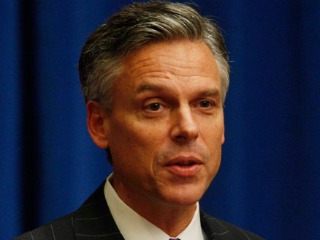 With the likes of Rick Perry, Michele Bachmann and a Ron Paul-shaped void taking up most of the media's time and focus lately, not much attention has been given to Jon Huntsman (Jr.), the former Governor of Utah and former ambassador to Singapore and China. But, nestled somewhere near an in-depth look at model Kate Moss' wedding, Vogue magazine has provided an interview with the GOP candidate they are calling "The Outsider."
As you would expect from a profile in a primarily fashion-focused magazine, Huntsman's aesthetic charms do not go by unnoticed: The way one of his eyebrows seems permanently cocked, lending him a "perpetual expression of thoughtful engagement, the look of someone listening intently to what others are saying," the manner in which his tanned skin, salt-and-pepper hair and attractive family helped The Wall Street Journal compare the launch of his campaign to "a Ralph Lauren product rollout."
Much of the article's real estate is devoted to noting how Huntsman doesn't seem like a "typical" politician. He seems just as at home — and just as slightly removed — at an all-you-can-eat BBQ buffet in South Carolina as at a Manhattan lunch attended by the likes of Diane Sawyer, Tina Brown and Henry Kissinger. He's polite. He's non-confrontational. He doesn't engage in mudslinging, "though he does pepper his remarks with occasional digs at Mitt Romney." And, speaking of Romney:
People tend to see Mormonism as a binary, you-are-or-you-aren't question, but Jon Huntsman is something more like a Reform Jew, who honors the spirit rather than the letter of his faith. He describes his family on his father's side as "saloon keepers and rabble rousers," and his mother's side as "ministers and proselytizers." The Huntsman side ran a hotel in Fillmore, Utah's first capital, where they arrived with the wagon trains in the 1850s. They were mostly what Utahans call "Jack Mormons"—people with positive feelings about the Latter-Day Saints church who don't follow all of its strictures. "We blend a couple of different cultures in this family," he says.

You'd never hear a phrase like that from Romney, who has raised his sons as Mormons and sent them on missions.
But enough about attractive Mormons. Where does Huntsman stand on various political issues? Why should anyone consider voting for him?
Huntsman has yet to put out any detailed position papers for his presidential run but offers a series of ideas that draw on his experience as governor. He would lower corporate taxes and reduce regulation to encourage business investment. He favors Paul Ryan's draconian budget-cutting plan as a starting point for discussions but doesn't rule out new revenues. "Everything has to be on the table," he says. After reasserting fiscal discipline, Huntsman would invest in energy infrastructure, pushing a shift from gasoline to cheaper, cleaner, domestically produced natural gas. He would also slash the defense budget by reducing American military commitments abroad, drawing down U.S. troop levels in Afghanistan more rapidly than Obama has proposed and disengaging from Libya.

In 2009, Huntsman was by one reckoning the most popular politician in America, but entirely out of sync with his own party, which was living through its Tea Party takeover. In a series of interviews, he called the GOP "devoid of ideas," describing it as "a very narrow party of angry people."
The article makes a few things, then, pretty clear: We, the general we, don't know too much yet about Huntsman. He isn't as loud or flamboyant or controversial as some of his rivals, but there's still plenty of time left for us to become formally introduced to him as a candidate and to see how he performs under pressure. And? Attractive female politicians aren't the only ones whose looks become a major focus and talking point. Male politicians — as long as they are conventionally attractive, with maybe a cocked eyebrow as a nice little extra — can spend time under our gaze as well.
h/t Vogue
Have a tip we should know? tips@mediaite.com