KY Dem Nominee Jack Conway Accuses Rand Paul Of Opposing The Civil Rights Act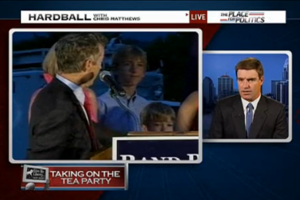 And we're off! Just shy of 24 hours after winning the nomination of their respective parties, Kentucky Senate candidates Jack Conway and Rand Paul started up their general elections campaigns, still in the glare of the national spotlight. Conway visited Chris Matthews on Hardball today to explain how he would make the people of his state see his opponent as someone outside of the mainstream. Easy, he explained: Paul opposes the Civil Rights Act.
Conway listed a series of issues which Paul was against, including the Civil Rights Act, the Americans With Disabilities Act, and the Department of Agriculture and Education:
He isn't the first to make the claim and wasn't even the last to do so on this episode of Hardball, with a supposedly damning Paul interview– an appearance from earlier today on NPR– making the rounds on Twitter. Except, regardless of what he may privately believe, Paul hasn't publicly expressed outright opposition to the Civil Rights Act– or, at least, the part of the Civil Rights Act it would be scandalous not to support. Paul was asked about previous statements he made calling the Americans with Disabilities Act an overreach and, specifically, "Would you say the same, by extension, of the 1964 Civil Rights Act?" Paul gives a lengthy answer on how much he disagrees with institutional racism, and admits that he hasn't even read all of the Civil Rights Act, not having found it too pertinent to the Kentucky Senate campaign, but that he believes it is possible it have been an overreach. Not exactly a passionate assault on the virtues of the Civil Rights Act. Neither is the interview Conway cites with the Louisville Courier-Journal, in which, again, Paul opposes discrimination. Below is the NPR interview, in which Paul is asked specifically about the Civil Rights Act:
Paul is scheduled to appear on The O'Reilly Factor and The Rachel Maddow show tonight, where at this point the topic is sure to come up, and a chat with those two to be nothing if not a spirited discussion.
Have a tip we should know? tips@mediaite.com