Letterman Blackmailed As a Matter of Revenge, Not Money, After 'Passionate Embrace'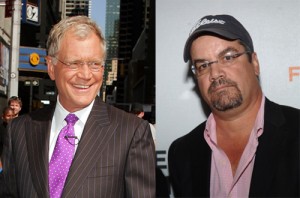 It was never about money for Robert Halderman. It was about revenge and jealousy. It was about David Letterman hugging his girlfriend.
This morning, Howard Kurtz writes in the Washington Post that Halderman, the man who attempted to squeeze Dave Letterman for some $2 million, was motivated by revenge, not money, even though he has struggled to pay alimony for two previous marriages and afford visits to an 11-year-old son by his second wife in Colorado.
Dr. Bob Arnot, the only source in Kurtz's write up and a friend who worked with Halderman for 15 years, says that Halderman was driven to threaten Letterman after he watched him hug Stephanie Birkitt while dropping her off near Halderman's home in Norwalk, CT.
When Halderman saw the two embrace at the end of a private road near his Norwalk, Conn., home, "he felt betrayed," Arnot said in an interview Friday. "He felt he was the backup. He felt lied to. He felt very angry, more at Letterman than at his girlfriend. . . . Joe was furious, beside himself, that this was being thrown in his face."
Kurtz speculates that the 'hug version' of the story may "represent an attempt to defuse the blackmail charges by maintaining that he was motivated by emotion and not money." But blackmail is blackmail, right?
The hug occured after Letterman drove Birkitt to Halderman's home in CT. From the Post:
On Thursday nights, when the show wrapped for the week, Arnot says, Letterman, 62, regularly drove Birkitt in his electric Tesla to Connecticut, leaving her off just down the road from Halderman's home. If Letterman and Birkitt were still romantically involved in August, when Halderman says he saw them in an embrace, it would contradict a Worldwide Pants statement that Letterman's sexual relationships with staffers predated his marriage. He wed Regina Lasko, another former "Late Show" staffer and his steady girlfriend of two decades, in March.
One question Kurtz doesn't address: Why did Halderman see them on a private road near his home? This whole thing kind of gets creepier and creepier.
Photo from OK Magazine.
Have a tip we should know? tips@mediaite.com