Rush Limbaugh Calls Out Media For Blaming Him, Tea Party For Aurora Shooting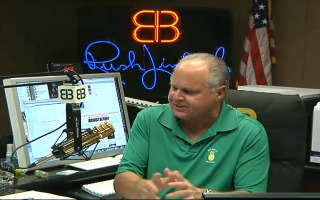 On Monday, conservative radio host Rush Limbaugh took on the press for attempting to link both his program and the tea party to the Colorado mass shooting. "The Democratic party itself put that out there," said Limbaugh in referring to the early reports that linked alleged shooter James Holmes to the tea party. "They are what they accuse us of being. They do what they accuse us of doing."

First, Limbaugh recapped ABC News' Brian Ross report in which he linked alleged shooter James Holmes to the Colorado tea party minutes after the identity of the killer was released. Limbaugh asked why they ABC would go on the air with that information if not confirmed.
"They didn't care whether it was true or not," said Limbaugh. "They know the power that they've got. They know the power that they wield. They wanted it out there."
He went on to recall the never fully verified claim that black Congressional Democrats were subject to racial slurs by protesting tea partiers as they prepared to sign the health care reform law. Limbaugh said that there is no criminal or violent history with members of the tea party, unlike "the Democrat version," Occupy Wall Street.
Limbaugh noted how his name was being cited on Twitter as the potential cause of the massacre because he linked the name of the villain in the Batman film to a venture capital firm that Mitt Romney ran in the 1990s.
"They tried to blame me for the Oklahoma City bombing. They tried to blame me and Sarah Palin for Gabby Giffords. Now this," asked Limbaugh. "These people don't even deserve to have jobs anymore."
Limbaugh played a clip of then-President Bill Clinton calling out right wing political speech for its supposed involvement in inciting the rise of extremism which led to the Oklahoma City bombing. He then moved on to Sunday's Meet The Press, in which host David Gregory who cited Clinton's words in 1995 and asked if the same language led to the attack in Aurora on Friday.
"These people are said to be among the smartest in the world," said Limbaugh. "It's transparent and it's pathetic and these are the people who try to politicize everything."
Listen to the segment below via the Rush Limbaugh Show:
h/t Daily Rushbo
> >Follow Noah Rothman (@Noah_C_Rothman) on Twitter
Have a tip we should know? tips@mediaite.com