Maher Panelist Smerconish: "[David] Carr Said Something Stupid," Beck Shouldn't Have "Played The Nazi Card"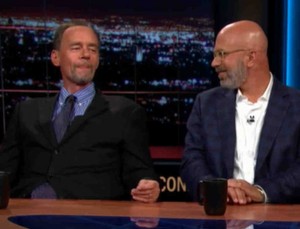 It's been a week since New York Times columnist David Carr referred to middle Americans with "low-sloping foreheads" on Real Time with Bill Maher. One of the first pundits to react to the story was Glenn Beck, and now one of Carr's fellow panelists from last week's show has weighed in on the controversy.
Michael Smerconish, conservative radio host and MSNBC contributor, reacted to Carr's remarks today in a column for the Philadelphia Inquirer. Smerconish said he thought Carr's comment was stupid, but he also thought Beck's reaction was over-the-top and inappropriate.
Smerconish describes his immediate reaction to Carr's remarks:
Sitting next to Carr at the time, I didn't say anything, nor did I think much of it. I don't think I've ever heard anyone use low-sloping foreheads as a descriptor. The context told me it was an unflattering reference, but it didn't strike me as over the line for a show that prides itself on political incorrectness. Not even when Maher responded with "Let's keep this guy talking" did I think Carr had said anything outrageous.
A few days later, after Smerconish saw Carr's apologetic tweet and had time to reflect, he realized that "in assessing the relative intelligence of Middle America, Carr said something stupid."
My hunch is that in seeking to echo Maher's remark about the intelligence level of various states, Carr left himself open to outlandish interpretations of his comments. I am still not sure what he meant by low-sloping forehead, but after having a chance to review what he said outside the Klieg lights, I don't think it was a reason to fear genocide or a reference to the disabled.
That last part was a direct shot at Glenn Beck, who suggested earlier this week that comments like Carr's "always lead to mass death," and it was for Beck that Smerconish saved most of his scorn and condemnation. He pointed out that during the first year and a half of his show, Beck "referenced Hitler 147 times and Nazis 202 times."
Smerconish suspected that Beck's overreaction to Carr's remarks may have been "payback" for a Times article from March 6 titled "The Fading Power of Beck's Alarms." In the piece, Carr referred to Beck as "a conjurer of conspiracies," and his Fox News show as a "serial doomsday machine." Smerconish piled on in his column, explaining why he doesn't like Beck's frequent invocations of the Nazis.
When everything is compared to Nazism, the true atrocities of the Holocaust are diminished. Given the breadth and intensity of the 24/7 media monster, there is an increasingly legitimate danger that frequent Nazi-references could significantly cheapen the emotional and historical impact of the tragedy – especially as time continues to pass and more Americans grow up immersed in a world of blogs and viral news.
Have a tip we should know? tips@mediaite.com
Josh Feldman - Senior Editor