Maria Butina's Gun Rights Group Funded Ex-Sheriff David Clarke's Russia Trip, Docs Reveal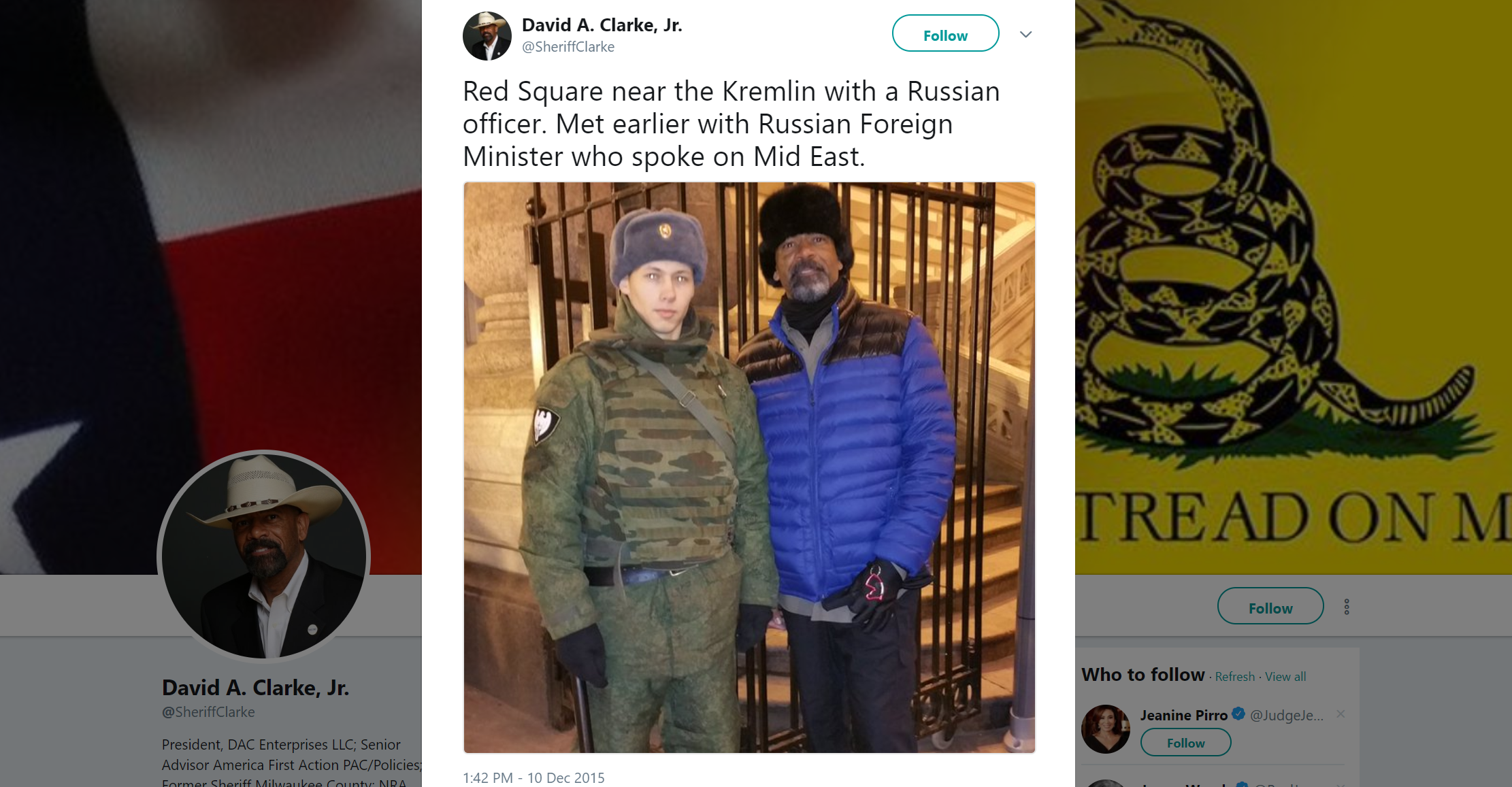 The Maria Butina scandal continues to grow in Milwaukee County, where it has been revealed that former Sheriff David Clarke's 2015 trip to Russia was sponsored in part by the gun rights group funded by the alleged Kremlin agent herself.
County financial disclosure documents obtained by the FOX6 local news channel show that Right to Bear Arms, Butina's organization which touts aims mimicking those of the NRA, footed a $6,000 bill for lodgings, food and transportation.
The breakdown is as follows:
$3,000 for a hotel
$1,2000 for meals, which averaged out to $200 each day
$1,000 for transportation with an additional $800 spent on "excursions"
The NRA covered the rest of the $40,000 in charges racked up on the 16-day trip, which included a visit to Israel.
While abroad, Clarke tweeted a photo of himself standing beside a Russian officer, adding, "Met earlier with a Russian Foreign Minister who spoke on Mid East."
Red Square near the Kremlin with a Russian officer. Met earlier with Russian Foreign Minister who spoke on Mid East. pic.twitter.com/ZcDdQB65lb

— David A. Clarke, Jr. (@SheriffClarke) December 10, 2015
Aside from the trip, a number of additional links from Butina to Clarke have surfaced, from photos to video of the two together.
The Justice Department announced last Monday that Butina was the subject of an investigation, one day after her arrest.
[Image via screengrab]
Follow Amy Russo on Twitter: @amymrusso
Have a tip we should know? tips@mediaite.com