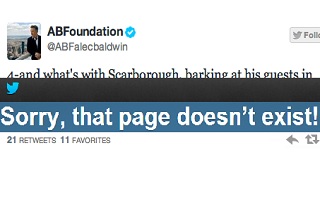 On Wednesday, actor and Up Late with Alec Baldwin host-to-be Alec Baldwin let loose on MSNBC stablemate Morning Joe, guest William Kristol, and host Joe Scarborough, in a series of tweets. The famously Twitter-intemperate Baldwin appears to have been informed of the rule against saying what you think of Joe Scarborough out loud, though, because the tweets have all been deleted, notably without an apology.

Baldwin started in on Kristol, but widened his attack to include a "schooling" of "Hannity-esque Catholic school gym teacher" Joe Scarborough:
@ABFalecbaldwin: October 2, 2013 1- there is, perhaps, nothing more offensive than watching the out of touch, sanctimonious William Kristol smirk his way through MORNING JOE
@ABFalecbaldwin: October 2, 2013 2- talking about the govt shutdown. Kristol wants to write it off w a C'est la guerre insouciance. More blatantly out of touch white men
@ABFalecbaldwin: October 2, 2013 3- minimizing everyone else's suffering. Carl Bernstein schools both Kristol and Joe S w the appropriate blend of history, policy, humanism.
@ABFalecbaldwin: October 2, 2013 4-and what's with Scarborough, barking at his guests in that Hannity-esque Catholic school gym teacher style?
@ABFalecbaldwin: October 2, 2013 15 minutes of Bernstein's perspectives on Washington are worth more than a month of Morning Joe. A year of Kristol
At least he avoided calling anybody a "queen" for five seconds.
Although MSNBC hasn't commented on the issue, and Baldwin has pointedly not apologized, all of those tweets have now been deleted. Baldwin even deleted a tweet joking that he was "told to start tweeting again" by Jerry Seinfeld.
A few weeks ago, Baldwin told The Hollywood Reporter that his Twitter feed would be subject to review by MSNBC President Phil Griffin. Asked what Griffin had to say about his Twitter habits, Baldwin said "The thing I like about Phil is, he's going to tell me exactly what's on his mind. So if anything happens that Phil is unhappy with, he'll tell me."
It appears that Phil has told him, but also has apparently not insisted upon an apology. You don't have to like Joe Scarborough to work at MSNBC, but you do have to keep quiet about it. In public.
Have a tip we should know? [email protected]