National Review: 'Chris Christie Lacks The Moral Compass And Integrity Needed To Serve As Vice President'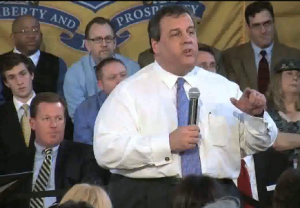 New Jersey's outspoken Republican governor and possible contender for the vice presidential spot on the GOP ticket in November, Chris Christie, is under attack from his right on Tuesday morning. National Review's Daniel Pipes and Steve Emerson have taken Christie on for his "Islam problem" and concluded that Christie is unfit to serve as former Massachusetts Gov. Mitt Romney's running mate.

RELATED: Gov. Christie Defends Appointing Muslim Judge: 'This Sharia Law Business Is Crap'
Christie has a history as a federal prosecutor and then as governor of embracing some American Muslims that Pipes and Emerson identify as having a checkered history.
As a prosecutor in 2008, Christie praised Passaic County Imam Mohammed Qatanani and called him a "man of great goodwill. " He did this after Qatanani had publicly ranted against Jews and in support of funding Hamas," writes Pipes and Emerson. Christie also approved allowing an assistant U.S. attorney to testify as a character witness in his deportation trial.
In 2010, a government employee was implicated in the burning of the pages of a Korean at a 9/11 memorial. While not a crime, the New Jersey Transit employee was set to be let go and Christie endorsed the move. The American Civil Liberties Union lobbied successfully to have that employee reinstated.
Christie's appointment of a Muslim judge which allowed him to harangue his critics, mostly on the right, but that judge had worked for the American Muslim Union which in the past has stated that a "Zionist Commando Orchestrated The 9-11 Terrorist Attacks."
Christie also famously bucked New York City's law enforcement when they defended surveillance techniques on Muslim community centers. The governor believes that excessive surveillance to be unnecessary.
National Review's Pipes and Emerson conclude that Christie has embraced a profound hypocrisy and his outspoken pro-Israel stance is betrayed by his lax treatment of Muslims that affiliate with unsavory groups.
It could be ego: The governor is more brilliant than we are. It could be that, other than fiscally, he is not a conservative. Or, as several analysts suggest, it could be cynical double pandering: Muslims get what they want most and Zionists get what they want most, with each side ignoring what Christie does for the other. Indeed, Senator Joseph Lieberman of Connecticut pursued this double-track policy (soft on Islamism, staunch on Israel) and he became the Democrats' vice-presidential candidate in 2000, when practically no one noticed the contradiction.

Whatever his reasons, we conclude that Chris Christie lacks the moral compass and integrity needed to serve as vice president of the United States.
h/t National Review
Have a tip we should know? tips@mediaite.com