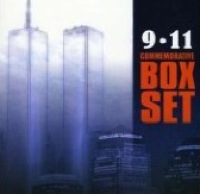 For many, September 11th has come to represent a host of complicated ideas. The violent attacks bring up memories of the incredible sense of national unity and the outpouring of global support that immediately followed them. Then, in what seemed like a blink of an eye, it became a political football, used to exemplify a preexisting bias, or as a test to sniff out a lack of patriotism. But judging by the anniversary coverage in newspapers eight years later, we seem to have moved on, or have at least started the process. Following is a roundup of how different news outlets are featuring — or burying — what's still a complex story:
The New York Times appears to bury their editorial at the bottom of the page, which starts: "The horrors of Sept. 11, 2001, are still vivid for many Americans, especially the families of the victims. So it is tragic that on this Sept. 11, when family members, politicians and visitors go to the ceremonies at ground zero, they will be gathering at an unfinished place." However, the NY Times home page promotes the moving slideshow "Showcase: The World, as of 9/10/01," a collection of images from the World Trade Center as it existed the day before the tragic events of 9/11.
Apart from a Charles Krauthammer Op-Ed titled "Van Jones, 9/11 Truther," The Washington Post opinion page appears to be 9/11 free. However, the front page story is "For Students, 9/11 a Lesson, Not a Memory," which is about high schools deal with the challenge of teaching events that are too recent for the history books to a generation that's too young to recall them.
The Wall Street Journal saves their coverage for Peggy Noonan, who offers a piece somewhat similar to the WaPo article "The Children of 9/11 Grow Up," which opens: "It is eight years since 9/11, and here is an unexpected stage of grief: fear that the ache will go away. I don't suppose it ever will, but grieving has gradations, and "horror" becomes "absorbed sadness." Life moves on, and wants to move on, which is painful for those who will not forget and cannot be comforted."
Shockingly, the New York Post did NOT put a 9/11 image on the cover, focusing on the NFL and the missing Yale bride instead. But they do have an opinion piece that leads with, "Eight years ago today, Islamic radicals carried out the worst attack ever on US soil, igniting a full-bore war on terror. But America's willingness to keep up that fight faces a huge test. At Ground Zero, the now-annual ritual will be conducted: Moments of silence will be observed, and a list of the names of those who died will be read." Otherwise, the NY Post (proudly?) treats this as a local story, championing how "victims' families will take their first steps on the long-awaited Memorial Plaza at the World Trade Center — a move that planners hope will allay fears that the project won't be done by the 10th anniversary."
Finally, America's Paper USA Today has 9/11 as their lead story, but goes against the grain with "For Flight 93 memorial, long-awaited progress," which focuses on the bureaucratic malaise that has held up the development of the Pennsylvania 9/11 Memorial. They also offer a brief opinion piece that stresses the need for justice, titled "9/11's unfinished business." Here's how it ends: "Yet amid all the success in weakening the al-Qaeda network, vulnerabilities remain, and one gaping piece of unfinished business stands out. Osama bin Laden and his partner, Ayman al-Zawahri, remain at large."
Have a tip we should know? tips@mediaite.com