New Report Claims That American Sniper Chris Kyle Embellished Own Military Award Record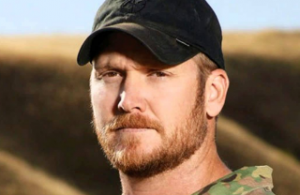 Everyone knows about Chris Kyle of American Sniper book and movie fame. He is what comes to mind when we think of the Navy SEAL program and the war in Iraq. As the Intercept puts it, "Since the publication of American Sniper, Kyle's exploits in Iraq during the height of the war have taken on almost mythic proportions."
The Intercept said a few other interesting things today, too, though, and not all of them were about the controversial movie that profiled Kyle's heroism. In fact, they were about that heroism, which has fascinated many Americans for years.
Here's what they wrote:
"All told," Kyle wrote in his book, "I would end my career as a SEAL with two Silver Stars and five Bronze [Stars], all for valor."

But Kyle, who was murdered by a fellow military veteran several years after leaving the Navy, embellished his military record, according to internal Navy documents obtained by The Intercept. During his 10 years of military service and four deployments, Kyle earned one Silver Star and three Bronze Stars with Valor, a record confirmed by Navy officials.
According to their report, one of Kyle's former commanders warned him that he had gotten his medal count wrong and should adjust his manuscript before sending it to his publisher as a final draft. Kyle sent it to print as it was.
There is no disputing that Kyle was still fierce in combat, though many SEALs who spoke to the Intercept expressed disappointment in his embellishment, as that is severely frowned on in the community.
Beyond the book, there were also inaccuracies in Kyle's separation papers, though a spokesperson for the Navy reportedly mentioned questioning the "motivation" behind looking into the discrepancies.
Of course, the reported medal inflation is not the only questionable part of Kyle's autobiography. Jesse Ventura won a defamation lawsuit last year after refuting an anecdote in the book that involved him being punched by Kyle for insulting the military. He claimed it never happened and the court sided with him, awarding him $1.8 million.
At the time, Ventura said, "A hero must be honorable, must have honor. And you can't have honor if you're a liar. There is no honor in lying."
[image via screengrab]
For more from Lindsey, try out Twitter or Facebook.
Have a tip we should know? tips@mediaite.com