Newt Gingrich Calls For SuperPAC To Correct Errors In Anti-Mitt Romney Bain Film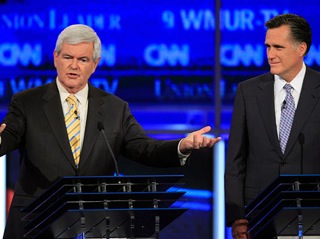 The SuperPAC-produced film "King of Bain: When Mitt Romney Came To Town" is coming under fire for being somewhat inaccurate, receiving cries to be removed from the airwaves and edited for accuracy should it have to return. The twist in this story is that the one calling for the extended documentary ad to be removed is its intended beneficiary, Newt Gingrich, who demanded that "every single mistake" be edited out yesterday.
RELATED: The New Film From Pro-Gingrich Super PAC: Mitt Romney Is 'The Man That Destroyed Us'
The New York Times reports that Gingrich, appearing before his campaign office in Orlando, demanded that the film be edited for accuracy. It wasn't an "any ad that quotes me is a falsehood" moment, but a cry that appears to have the potential to fall on deaf ears for more truth in campaign work:
"I'm calling on them to either edit out every single mistake or to pull the entire film," Mr. Gingrich said at the opening of a campaign office in Orlando during a swing through the critical primary state of Florida. "They cannot run the film if it has errors in it."

But the group running the video, the pro-Gingrich "super PAC" Winning Our Future, made no move to alter the work. Late Friday, it released an open letter to Mr. Romney saying it would alter its advertisement only if he would answer a series of questions about "your version of events," including when he formally relinquished a "controlling interest" in Bain and when he received a final check from Bain relating to any investment in which he had an interest.
The Times described Gingrich's move as "getting to have his cake and eat it, too," and notes that this is somewhat of an about face from the "angry little attack muffin" of a week or so ago. Gingrich initially defended the premise of the ad– that Bain under Romney was ruthlessly and dangerously risky with buying and selling companies. But as the fact-checks roll in, it appears he is more hesitant. Among the errors the Times notes, Romney does not own 15 homes (he owns 3), and, by its own admission, KB Toys did not fall because of Bain's doing, but "the single overwhelming factor" in its demise was competition from Wal-Mart and Toys R Us.
This does not mean with any likelihood that Gingrich will let up his attack on Mitt Romney– but it at least gives the impression that he wants his attacks to be fair, and he wants others speaking unofficially in his name to be held to some standard, which flies in the face of the image Gingrich has developed, fairly or otherwise, of being in the race for purely vindictive reasons at this point given his rise and fall in the polls before Iowa.
Have a tip we should know? tips@mediaite.com