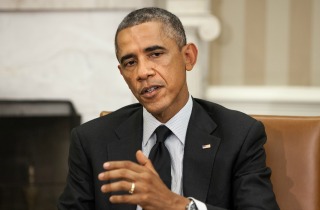 Yesterday President Obama delivered a big speech on partisanship and how it's gotten worse under his administration.
He considers it a failing, and in an interview after his big speech with The Chicago Tribune, he talked up how well people got along when he was still an Illinois legislator.
But one thing he wanted to make clear was that he doesn't think race has been a big factor in the partisan divide. Obama said that there are certain people who voted against him or don't approve of him "because of race," but there's also people who supported him simply because he was black.
The president went on to downplay it and even talk up how far America has come:
"There's no doubt there are pockets of the country where some dog whistles blow and there's underlying racial fears that may be exploited," he said.

"You've got a whole generation of kids growing up where the first president they've known is an African American," he added. "Even if they're hearing their parents say he's terrible, it kind of seeps in that it's not a crazy thing. So that sometime later, if there's a Hispanic, or a woman or another African American, that won't seem as exceptional. These things change over time."
Obama thinks most of this just comes down to "hardball politics," similar to how the Clintons were attacked on health care back in the 90s.
[image via Shutterstock]
— —
Follow Josh Feldman on Twitter: @feldmaniac
Have a tip we should know? tips@mediaite.com
Josh Feldman - Senior Editor