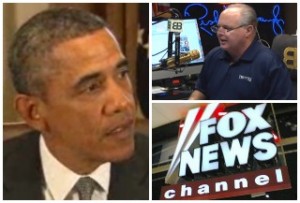 In follow-up comments to his big New Yorker interview over the weekend, President Obama sounded off on a few other issues, from BridgeGate to criticisms of his leadership style, and in the case of the latter, he took a shot at the conservative media for reducing him to a "caricature" in the eyes of Congressional Republicans.
The president talked about his past relationship with Chris Christie without saying much about the current scandal he's engulfed in, but Obama got "particularly touchy" about the criticism that he has not done a good enough job dealing with Congress. He said that earlier in his political career, he used to have "great relationships" with Republicans he worked alongside with, but now it's much harder to get things done because many Republicans in Congress simply don't want to do anything that's viewed by the conservative base as a "betrayal."
And who's to blame for this? Obama called out factions of the conservative media for going above and beyond to demonize him.
"The issue has been the inability of my message to penetrate the Republican base so that they feel persuaded that I'm not the caricature that you see on Fox News or Rush Limbaugh, but I'm somebody who is interested in solving problems and is pretty practical, and that, actually, a lot of the things that we've put in place worked better than people might think."
Obama has leveled this same criticism before, and Limbaugh has previously responded by calling it "silly" to think he's part of the reason why nothing gets done in Washington.
[h/t The Hill]
[photo via screengrab]
— —
Follow Josh Feldman on Twitter: @feldmaniac
Have a tip we should know? tips@mediaite.com
Josh Feldman - Senior Editor