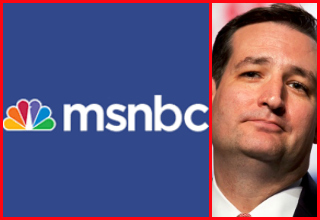 As you may have heard, MSNBC has struggled since the 2012 election.
Rachel Maddow's audience down almost 50 percent in the past year.
Chris Hayes dragging down the entire primetime lineup after inheriting the 8:00 PM weekday slot.
Ed Schultz redefining the word nomad (four different time slots in two years).
The Cycle's revolving door of hosts due to the loss of half of the original cast of four.
But the primary reason MSNBC had been leaning backward instead of forward was due to the loss of… Mitt Romney. To them, he was the perfect picture of evil for producers and anchors at the network to present to its progressive audience: old, white, rich, Republican, and racist (the last term apparently applies to anyone who isn't a Democrat). With Romney, the 21st Century version of Gordon Gekko, they had their sitting duck, the caricature they needed to fuel a 24/7 network based on (mostly) one-sided opinion.
Of course, the only way to continue the Romney portrayal was for the Republican nominee to get elected. That didn't happen–not even close—resulting in MSNBC losing its biggest asset. And for the first eight months of this year, Phil Griffin's ship was a rudderless one thanks to big breaking news after big breaking news story (with a big trial thrown in). It all started in the spring with the Boston bombings and Oklahoma tornadoes, extended into the summer with the Zimmerman trial and Syria, and culminated in September with the Navy Yard shooting.
Political opinion took a back seat. The network urgently required a political war and/or a sinister conservative to breathe life back into the prompter.
Continue to blame Bush? Please. Even he wasn't cooperating by the showing the same class his father has in keeping his mouth shut and only having nice things to say about the Obama Administration when saying anything at all.
Boehner? C'mon…the tan jokes can only go so far.
Enter Ted Cruz, Republican Senator from Texas.
We all know the story from there: Cruz leads a fight from the Hannity/Levin/Palin wing of the GOP to defund Obamacare. "Establishment" Republicans from political and media circles (from John McCain to Peter King to Karl Rove) fight back, creating a juicy civil war that has allowed the aforementioned Maddow to get her smirk back.
Cruz then takes it even further, performing a 21-hour filibuster-that-wasn't-technically-a-filibuster that curiously made almost everyone's head explode both on Capitol Hill and newsrooms across the country. Given the outrage, you would think the guy was the Majority Leader and hadn't passed a budget in four years or something…
Anyway, the now-2016 GOP frontrunner has since been compared to Hitler by Chris Matthews. Ed Schultz says Republicans like Cruz who oppose funding Obamacare do so because of racism. Of course, that means the 68 percent of Americans who hoped the Supreme Court would strike down all or part of President's health care law (New York Times/CBS poll) back in May are also racist. And what about those pesky unions Schultz has become the unofficial spokesman for? Even they want no part of the new law. White hoods for all!
Not too long ago, MSNBC may have finally lost George W. Bush after squeezing every last bit of material from a President who left office nearly five years ago.
In November, they lost Mitt Romney.
John Boehner has always been, to quote Dr. Evil in Austin Powers 2, The Spy Who Shagged Me, "like the Diet Coke of evil: Just one calorie, not evil enough."
Minus a Presidential election, the network needed a savior.
Not Keith Olbermann…he's back on ESPN.
Not Jon Stewart…he's under contract until 2015.
Not Barack Obama…he already feels soooo 2012.
But thanks to the man leading the effort to defund Obamacare, Christmas has come early to 30 Rock.
Putting the network on Cruz control.
For a little while, anyway…
— —
Follow Joe Concha on Twitter @ConchSports
Have a tip we should know? tips@mediaite.com