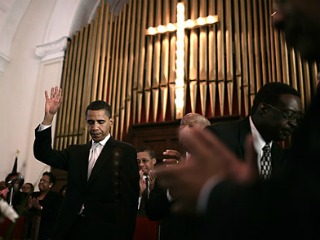 According to a poll released Thursday by the Public Religion Research Institute in partnership with Religion News Service, one in six Americans continue to believe that President Barack Obama is Muslim. Specifically, 16% percent of voters continue to incorrectly describe Obama as Muslim, with about 24 percent of white evangelical voters and 25 percent of Republican voters identifying him thusly.
As for Romney, "a slim majority of voters" correctly identify him as Mormon, with another 12 percent identifying him "generally as some type of Christian (7% Protestant/Christian and 5% Catholic)" and 35 percent reporting that they are not sure what his religious beliefs are.
Here are some other findings from the poll:
RELATED: Morning Joe Panel Questions Whether Obama Campaign Will Covertly Use Romney's Religion To Make Him Seem 'Weird'
There are strong divisions in voting preferences by religious affiliation.

* White evangelical voters strongly support Romney over Obama (68% vs. 19%).
* Catholic voters overall say that they would be more likely to vote for Obama than Romney (46% to 39%), although white Catholic voters favor Romney over Obama by a significant margin (48% to 37%).
* Obama has an advantage over Romney among white mainline Protestant voters (50% vs. 37%) and religiously unaffiliated voters (57% vs. 22%).
In addition, the poll states that there are "clear signs that white evangelical Protestants are moving beyond any reservations they may have held earlier in the campaign about Romney's Mormon faith. Even among white evangelical Protestants who say Romney's religion is different from their own, Romney holds a solid 45 point lead over Obama (67% vs. 22%), and 63% report having a favorable view of Romney."
h/t Public Religion Research Institute
Have a tip we should know? tips@mediaite.com