Organizer of White Supremacist Convention Asked Scalise to Attend: 'He Was My Neighbor'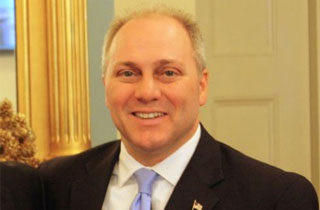 In an interview with The Washington Post, Kenny Knight, a longtime associate of A-list neo-Nazi David Duke, said that he personally invited his neighbor Rep. Steve Scalise (R-LA) to speak at a white supremacist convention in 2002, and that Scalise, well aware of Knight's political beliefs, had accepted.
"He was my neighbor," Knight said of Scalise, then a state representative. "I asked him to be the first speaker before the meeting kicked off."
"The thing is, I don't think Scalise knew anything about EURO, about that latter group," he continued, describing the convention as a "mixed group" comprised of "people who are concerned about the survival of their race."
But Knight added that Scalise definitely knew about Knight's beliefs:
"This all came about because I organized the EURO meeting for David Duke as a courtesy after he had moved to Russia. I've known David for 40 years so I did him a favor. As part of that, I decided to ask Steve, our local representative, to come by and say a few words before the conference started," Knight said. "He agreed, believing it was going to be neighbors, friends, and family. He saw me not as David Duke's guy, but as the president of our civic association."

Knight continued, "Now, at the time, I was a prominent person in state politics. I was on the radio, I was doing campaigns. Steve knew who I was, but I don't think he held it against me. He knew I lived by his street and that I was active in our community. And I didn't see a problem with having him speak."

"Steve came in early on the first day of EURO, spoke for about 15 minutes, and he left," Knight recalled. "He didn't hear David speak remotely to the crowd." Knight also said that he does not have video of Scalise's remarks nor does he know if video of the speech exists.
This contradicts statements that Scalise gave to the Times-Picayune yesterday, in which he claimed he didn't remember attending the EURO conference and wasn't aware of their beliefs. At the time, Scalise said, he would speak "to any group that called" and wanted to hear his argument against a proposed plan to hike the income tax.
Importantly, Scalise implied that 1) the invite came from an unknown outside party, and 2) a staffer was responsible for vetting the groups:
"I don't have any records from back in 2002, but when people called and asked me to speak to groups, I went and spoke to groups. It was myself and [former state Sen.] James David Cain who were opposed to the Stelly tax plan…

I had one person that was working for me. When someone called and asked me to speak, I would go. I was, in no way, affiliated with that group or the other groups I was talking to…

"If I knew today what they were about, I wouldn't go. My staff, they are able to vet organizations. We turn down requests from organizations we don't approve of…

"There is a lot more vetting that goes into setting my appointments. I have a scheduler. I didn't have a scheduler back then. I was without the advantages of a tool like Google. It's nice to have those. Those tools weren't available back then."
Nevertheless, Knight — who, let's point out, worked on or ran all of Duke's political campaigns — says that he continues to support Scalise, even pointing to a $1,000 donation he made to his campaign. "I've supported him because I like Steve Scalise and not because I'm working on behalf of David Duke, sending him secret messages," he said. "Steve was someone who I exchanged ideas with on politics. We wouldn't talk about race or the Jewish question."
Here's some background of the developing saga, via CNN:
[The Washington Post]
[Image via Rep. Steve Scalise/ Facebook]
—
>> Follow Tina Nguyen (@Tina_Nguyen) on Twitter
Have a tip we should know? tips@mediaite.com