Osama Bin Laden Hunter Stops By The View, Baffles Whoopi Goldberg And Joy Behar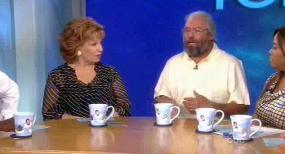 The construction worker who was arrested for trying to hunt down Osama bin Laden in Pakistan is now doing a publicity tour that took him to The View this morning, because this is America and in America, insane things like this just happen.
Here's a look at what Gary Brooks Faulkner had to say to the ladies of The View.
Now let's just say upfront, if Mr. Faulkner thinks he knows where bin Laden is hiding (he does think this, and Dexter Filkins says he might have been close) and he wants to go and try to hunt him down, more power to him. That said, he hasn't made a very convincing case so far that America's hopes of capturing the al-Qaeda leader hinge on this guy. Whoopi Goldberg introduced the guest, and then addressed him directly: "You're a construction worker, you don't have any satellites, so what the hell?"
"I'm looking in the caves!" said Faulkner. This was a joke actually. Instead, his serious answer was the following: "This is a thing that has to come from the spirit. You have to have a spirit of non-fear. You have to have a spirit of determination and you have to set out to do something."
He will capture bin Laden with spirit. He also has something else up his sleeve (well, close to his sleeve). Like bin Laden, he is on dialysis, which means he and the terrorist "share an equal camaraderie."
This didn't convince Joy Behar. "What does that have to do with capturing him?" Behar later pressed him on the fact that if he knows where bin Laden is right now, why is he, you know, on The View. "While you're on TV he may be moving to another cave," she said. "It's possible," said Faulkner. Update: I listened again, it was actually "impossible."
His PR tour took him to CBS' The Early Show this morning and tonight to The Late Show with David Letterman. All these opportunities have come since publicist Glenn Selig began representing him. (Follow the trail on Twitter!) Selig also represents Rod Blagojevich.
America, ladies and gentlemen.
Here he is on The View. Good luck Osama hunter!

—–
» Follow Steve Krakauer on Twitter
Have a tip we should know? tips@mediaite.com