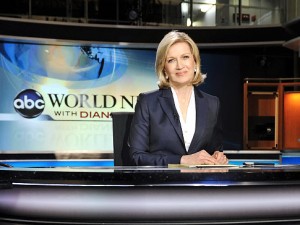 When Katie Couric moved to CBS in 2006, the decision was subject to endless media fanfare and criticism. Diane Sawyer's move to ABC, replacing Charlie Gibson as anchor of World News, however, was much quieter. Washington Post columnist Howard Kurtz takes a look at Sawyer's work since she left Good Morning America, and how she has changed World News.
While Kurtz immediately admits Sawyer's six months as anchor "have not changed the newscast's second-place status," he writes that the show now has more edge–attempting to dig deeper and create more of a conversation:
By pushing her reporters to brandish documents on the air and investigate e-mail questions from viewers, by complaining about official intransigence, she is forging what a top ABC executive calls an "advocacy" program.

"We've done quite a bit of making room for the extra thought — allowing ourselves to tell you the one thing we found fascinating," Sawyer says. "It's become a real conversation we're having with you, that we would have if we were sitting in your living room. I think it gives us some freedom to be ourselves."
Executive Producer Jon Banner calls her the "most curious" person he's seen in a long time.
Kurtz touts Sawyer's hard work ethic and stamina: she interviews Michael Hastings for 25 minutes "even though it will at most yield a sound bite for the newscast." Her days don't end until 1 or 2am even though she's up by 7am. Nearly everyone, Kurtz writes, "has a story about her stamina."
Since becoming anchor, Sawyer "has held onto nearly all of Gibson's audience," but Banner says it is disappointing that some people still only associate her with Good Morning America:
She has averaged 7.6 million viewers, compared with 8.8 million for Brian Williams's NBC Nightly News and 5.8 million for Couric's CBS Evening News. "I am deeply frustrated by that," Banner says, adding that promotion has been so meager that he meets people who still think Sawyer is co-hosting Good Morning America, "I more than anything want to get back into first place. It's something she deserves." In the past month, Sawyer has reduced NBC's lead to 710,000 viewers.
ABC's ratings may not be jumping, but Kurtz makes it clear that Sawyer is here to stay and remarks on how journalism energizes her: after seven trips so far as anchor, she "needs to be at the scene of a story 'and know what it smells like.'"
Have a tip we should know? tips@mediaite.com