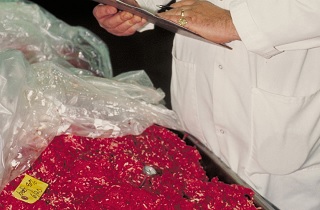 The all-beef meat filler known as "pink slime" was all over the news for a hot minute last year, grossing people out and causing school districts to stop ordering ground beef that contained the additive. On Monday, Politico reported that school districts in several states have decided to go back to ordering the slightly-cheaper ground beef in order to save money, and conservative media watchdog Newsbusters is none too happy with Politico's unappetizing reportage on "lean finely textured beef."
The news here is that schools in four states have gone back to the cheaper stuff, now that the "pink slime" scare has worn off a little. and budgetary reality has reared its finely-textured head. From Politico:
Thousands of schools across the U.S. rushed last year to stop feeding their students meat that contained the ammonia-treated beef, known by industry as lean finely textured beef. Their action followed a massive media uproar, which included a prime time show featuring British celebrity chef Jamie Oliver and a series of critical reports by ABC World News.

But new government data show schools in four more states have since put aside concerns and resumed buying the controversial product.

As of Sept. 3, seven states put in orders to the USDA for about 2 million pounds of beef that may contain the controversial product for the meals they serve in the 2013-14 school year. At this time last year there were only three states — Iowa, Nebraska and South Dakota — that had put in orders for beef that may contain lean finely textured beef.
According to Politico, the additive brings down the cost of ground beef by up to 3%.
Newsbusters' Mike Ciandella took exception to Politico's report, particularly with the site's "repulsive" description of Lean Finely Textured Beef. You can infer what that description was from context, but also decide for yourself if Ciandella's is really any better:
E. coli! Carcasses! Those words sound scary until you think them through. Any beef is "muscle off a cattle carcass" by definition, and the ammonium treatment, which is standard for the beef industry, is merely a precaution to prevent any disease carrying bacteria that may happen to be on the beef.

And as for the too fatty for "human food" part, lean finely textured beef, is made up of beef that is just harder to get at, so the meat isn't lost. It's treated to get rid of the fat and included with the rest of the ground beef. The USDA declares it healthy, and it is less expensive. The tiny amounts of ammonium hydroxide the beef is treated with make it safer to eat, but the media have made it sound like this is bad.
Mmmm! Harder-to-get-at meat! Saf-er to eat! Are you getting all Pavlov-y yet? Ciandella's description is actually cribbed from an older MRC post by Dan Gainor, which calls the ammonium hydroxide treatment an "added bonus."
The reason LFTB is treated with ammonium (or citric acid) is that the stuff is more susceptible to contamination, which makes sense, since it is heated to about 100°, right smack in the middle of bacterial Valhalla. It's not an "added bonus," and it's not to get rid of the fat. Also, both Ciandella and Gainor assert that the USDA calls LFTB "healthy." Not exactly (emphasis mine):
The process used to produce LFTB is safe and has been used for a very long time.  And adding LFTB to ground beef does not make that ground beef any less safe to consume.
Tomato, tomahto.
I didn't see all of ABC News' reporting on "pink slime," but there's every chance it was overheated (that's TV news), and dubbing the product "pink slime" was probably bad for business, but consumers seem to have exactly the right idea about the stuff: it's one of the many things about food production that's really gross when you think about it, but like the allowable level of insect parts in peanut butter, it won't kill you.
But if defending "pink slime's" honor is the point here, and not simply ax-grinding against media outlets they don't like, I do wonder why Newsbusters had no problem with this description of LFTB:
'Pink slime:' Combo of connective tissue, scraps hidden in your kids' lunch
Or this headline, pegged to Politico's less-sensational report:
'Pink slime' oozes back into school lunches in four states
Could it be because the first headline is from Fox News, and the other is from the conservative Daily Caller? That is some lean, finely-textured outrage, all right.
[photo via USDA.gov]
Have a tip we should know? tips@mediaite.com