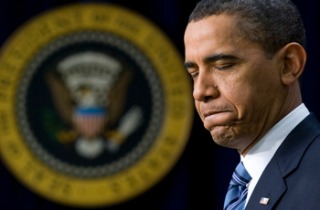 The release of the latest CBS News survey on Wednesday morning shook political conventional wisdom to its core. This survey greatly informs the debate over how the public views the Affordable Care Act and its problematic roll-out. While this survey provides the Republican Party with important warning signs – signs the party appears have not yet internalized – this survey also suggests that Democrats are joining independents in abandoning hope that President Barack Obama's signature achievement can be salvaged in its present form.

The latest CBS News survey shows that the ACA's public approval rating is in freefall. Only 31 percent of Americans approve of the program, down from 43 percent one month prior. 61 percent of Americans disapprove of the law. The president's approval rating is also suffering. He, like his namesake legislative initiative, is floundering. Only 37 percent of the public approves of his performance in office, virtually identical to President George W. Bush's job approval rating at this point in his presidency.
While Republicans and independents continue to view the law unfavorably by large margins, Democrats are beginning to come around to this view as well. Only 58 percent of self-identified Democrats expressed approval for the ACA. 29 percent of Democrats openly disapprove of the law. That represents a 16 point collapse from October, when 74 percent of Democrats expressed support for the law.
Liberal proponents of health care reform have accurately noted that slim majorities or pluralities (depending on the survey) continue to oppose a full repeal of the ACA. Some conservatives appear to have convinced themselves that the negative public view of the Republican-led government shutdown, when GOP legislators demanded full repeal of the law, is responsible for this condition. It is more likely, however, that the public is expressing a preference – or bias, depending on your point of view – in favor of the status quo.
Moreover, the fact that only 43 percent favor repeal while 48 percent do not in this poll confirms what ACA supporters have claimed for years: a variety of provisions within the law are more popular than the ACA itself. Aspects of the health care reform law like allowing young adults to remain on their parents' insurance plans until the age of 26, ending insurers ability to discriminate against pre-conditions, and decoupling health insurance from employment (which limits mobility) are all favored by the public. Voters are concerned that both baby and bath water will meet the drain in the wake of full repeal.
Republicans should keep this in mind. A conservative alternative to the law is critical to allaying the public's concern that Republicans are advocating for a return to the status quo ante health care delivery system.
RELATED: WaPo Analyst: Obamacare Creating 'Psychological Shift that Favors Republicans'
But this is where the good news for Democrats ends. In the latest CBS poll, only 12 percent of Democrats believe the law is "working well" and should be "kept in place" in its present form. 72 percent of Democrats conced that reforms to the law are necessary. Another 12 percent of self-identified Democrats favor full repeal. Those 12 percent of Democrats are joined by 49 percent of independents and more than two thirds of self-described Republicans.
This indicates that Senate Majority Leader Harry Reid (D-NV) cannot act as firewall for much longer. The House will continue to exert pressure on the upper chamber to enact reforms and Reid's Democratic members are growing more uncomfortable with the bottoming out of their reelection prospects. And bottoming out they are.
This survey shows, as have others, that the gains made by Democrats over the course of the shutdown have evaporated. 21 percent of the public told pollsters that they approve of Republicans in Congress, a 3 point bump from the month before. While this is certainly an anemic level of public approval, it is only marginally worse than the approval rating Democrats now enjoy. Only 26 percent said they approve of the job congressional Democrats are doing, down from 31 percent in October.
Political pundits have the ability to insist that Democrats in Congress stay the course and hope this brewing hurricane blows over. Elected representatives, however, do not have this luxury. It is a matter of weeks – maybe even days – before the Senate must consent to a legislative fix and allow their vulnerable Democratic members to take a vote back home to campaign on ahead of the 2014 election cycle.
Republicans would be well-advised to make settling on a universally agreed upon conservative alternative to the ACA soon. The public quite clearly demands it. But Democrats are in very real political peril. They, too, will have no choice but to consent to reforms to the ACA – if only because their base is losing faith that the law is worth saving.
[Photo via AP]
— —
> >Follow Noah Rothman (@NoahCRothman) on Twitter
Have a tip we should know? [email protected]