President's Former Defense Sec. Blasts Obama, Shows 'Contempt' for Biden in New Book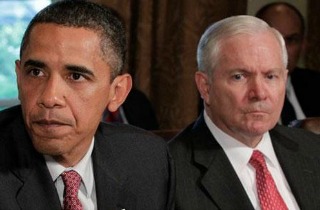 A report in the Washington Post from reporter Bob Woodward reviewing a forthcoming book authored by President Barack Obama's former Secretary of Defense, Robert Gates, exposes some surprising revelations about this administration's leadership. Woodward describes Gates as leveling "one of the more serious charges" against Obama that anyone could issue and displaying "outright contempt" for Vice President Joe Biden.

While Gates was careful to write that he finds Obama to be "a man of personal integrity" and someone whose "support for the troops" was never in doubt, Gates ripped into Obama's penchant for favoring political over strategic military objectives.
In the upcoming book Duty: Memoirs of a Secretary at War, Gates made what Woodward describes as "one of the more serious charges that a defense secretary could make against a commander in chief sending forces into combat."
Obama "doesn't believe in his own strategy, and doesn't consider the war to be his," Gates wrote. "For him, it's all about getting out." The former defense secretary added that Obama's embrace of a surge strategy in Afghanistan revealed that his and his Cabinet's opposition to a similar strategy in Iraq was entirely political.
In fact, while he also penned effusive praise former Secretary of State Hillary Clinton in the same way he praised Obama, Gates wrote that Clinton admitted that she opposed an influx of troops into Iraq only to achieve a political aim.
"Hillary told the president that her opposition to the [2007] surge in Iraq had been political because she was facing him in the Iowa primary. . . . The president conceded vaguely that opposition to the Iraq surge had been political. To hear the two of them making these admissions, and in front of me, was as surprising as it was dismaying."
Gates penned far less praise for Biden, however. Woodward writes that Gates displayed a measure of "contempt" for Obama's vice president.
"Biden is accused of 'poisoning the well' against the military leadership," Woodward reported. "Thomas Donilon, initially Obama's deputy national security adviser, and then-Lt. Gen. Douglas E. Lute, the White House coordinator for the wars, are described as regularly engaged in 'aggressive, suspicious, and sometimes condescending and insulting questioning of our military leaders.'"
Duty, published by Knopf, is due out on January 14.
Read the full review via the Washington Post.
[Photo via AP]
— —
> >Follow Noah Rothman (@NoahCRothman) on Twitter
Have a tip we should know? tips@mediaite.com