Rothman: Pundits' Desperation for Obama to 'Do Something' Yields Worst Advice Ever: Fire Everyone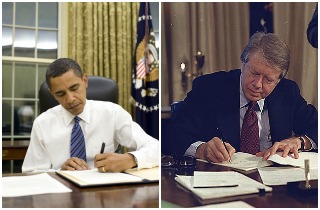 The first two months of the Affordable Care Act's implementation has sparked a virtual crisis of confidence among average Americans and political pundits alike. The ACA's disastrous roll-out resulted in the cratering of President Barack Obama's job approval rating, a collapse in support for the already suspect 2010 health care reform law, and the diminution of Democrat's 2014 political prospects.

Amid this spiraling sense of crisis, political scientists and pundits are engaging in a variety thought experiments as they seek to identify ways in which the president can stop the bleeding of his public support and stem the tide of his skittish allies fleeing the White House's side. One such suggestion on Monday came from the thoughtful and fair-minded National Journal Editorial Director Ron Fournier.
His earnest suggestion is, in an effort to project an air of engagement and proactivity, for President Obama to shake up his Cabinet and bring in some "new blood."
Fournier began by noting that there are historically two kinds of White House personnel shakeups. "The first is mostly cosmetic and aimed at sending a signal that the president is serious," he wrote. "He fires somebody, anybody, as a sacrificial lamb. The second is deep cleansing – that rare occasion when a president rebuilds his team to change himself. This is what Obama must do."
Fournier noted that both Presidents Bill Clinton and Ronald Reagan, experiencing a loss of public trust and facing electoral rebukes at various points in their presidencies, fired their chiefs of staff and hired outsiders with the mission of speaking truth to power.
Both Clinton and Reagan rebounded from the nadirs. While time is precious, Obama can still recover from this lowest point in his presidency, but only if he changes himself along with his staff.
"For all his strengths, Obama is a private, almost cloistered, politician surrounded by fawning aides who don't understand why anybody would object to his policies, thus they are often caught flat-footed by critics," he adds in a stinging rebuke of the president's staffing priorities.
RELATED: CBS' John Dickerson: 'Doesn't Matter if Website Is Working' if User Info 'Gets Messed Up' During Enrollment
But there is no evidence that the president has much stomach for being told harsh truths or for staffing his White House with figures selected more for their ability to project the impression that Obama's governing priorities are in flux. In the wake of Obama's 2010 "shellacking" in the midterm elections, he followed Clinton's lead in replacing White House Chief of Staff Rahm Emanuel with Bill Daley, the 42nd President's Secretary of Commerce.
Daley was thought of as a centrist with a history of working with Republicans. His ascension to what is widely regarded as the most influential office in Washington D.C. was designed, most believed, to show that the president had internalized his midterm rebuke and would make an effort to govern from the center. Daley held the office for less than one year before he announced his intention to resign and head home to Chicago. He was replaced by Obama's first head of strategic communications for the National Security Council, Denis McDonough.
Obama's experience with Daley suggests that he works best with those he elevates because he wants to work with them. Daley's elevation failed to achieve its chief aim: to project the impression that the president's governing style was shifting. So, the only other reason for the president to shake up his Cabinet is to demonstrate to the public that he is taking proactive measures to address the public's concerns. Recent history suggests that such a move can have the precise opposite effect.
Amid "stagflation" and a crippling oil embargo, President Jimmy Carter faced a crisis of confidence in 1979. In order to address this issue, he delivered the famous "malaise speech" to the nation. But Carter was not content to rely on the power of argument alone to restore confidence in the direction the nation was headed. Two days after he delivered that speech, Carter gutted his Cabinet. The move backfired profoundly.
Presidential historian Walter Shapiro observed that history's recollection of the "malaise speech" as a political blunder is a misreading of history. "Carter received a whopping 11 percent rise in his poll numbers," Shapiro wrote. In fact, it was Carter's decision to fire his Cabinet that projected an image of incompetence, panic, and short-sightedness which reversed all the good he did with his prime time appeal to the nation to embrace shared sacrifice.
The president's poll numbers sank again as confusion and disarray took over. Carter could give a great speech, but there were two things he couldn't manage: to govern well enough to make his language buoy him or to find a way to yoke the energy crisis with concrete civic re-engagement initiatives. Though Americans were inspired by the speech, many were still stumped as to what was expected of them. As Time magazine described it: "The President basked in the applause for a day and then set in motion his astounding purge, undoing much of the good he had done himself."
Of course, White House appearing to hold its appointees accountable for their failures is almost always a good thing. Health and Human Services Secretary Kathleen Sebelius' firing could be viewed as a long overdue accounting for a spectacular policy failure, but it also would invite the implication, one which Fournier warned of, that Obama sought only sacrificial lamb to appease a public in the mood for blood.
The evidence suggests that Obama's White House would not be best served by appointing officials the president has not selected because he wants to work with them. Further, historical precedent indicates that a purge of Cabinet officials amid a crisis can have a more damaging effect on the presidency than anything else.
The impulse to have the president "do something" is an understandable but also misguided instinct. The president is already seeking political solutions to a problem that has come about as the result of poorly designed and incompetently executed policy. The only "something" Obama should do is stop focusing on the politics of this situation and being to think seriously about accepting politically damaging but necessary reforms to the ACA.
[Photo via White House / Jimmy Carter Library and Museum]
— —
> >Follow Noah Rothman (@NoahCRothman) on Twitter
Have a tip we should know? tips@mediaite.com