Rep. David Wu Says Goodbye After Resigning Over 'Unwanted Sexual Contact' Accusation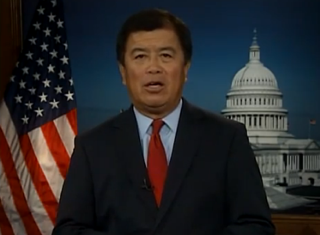 Lost in the mess created by Congress potentially allowing the United States to default on its debt obligations, the brewing sex scandal surrounding Rep. David Wu finally claimed its protagonist's career yesterday, and the Congressman released a goodbye video to thank his constituency for the privilege of serving them. He also noted that the bill in favor of which he cast his last vote was "abhorrent" to him, but that the "greater good" must prevail in the debt debate.
"Our nation is being held hostage," he told his audience— a line anyone following politics these past few weeks must be more than accustomed to. "The legislation before us to prevent that chaos, to prevent that default, is really abhorrent to me and the values that I hold;" nonetheless, he explained that he voted for it because "in some instances in our lives, we have to give up on some of those things we really care about for a greater good."
With the explanation for his yea vote out of the way, Rep. Wu noted that this "crucial vote" "is likely to be my last vote, and I want to thank the people of Oregon for giving me this… the greatest honor than an immigrant child can ever have." With a "Godspeed," he concluded his Congressional career.
While Rep. Wu was considered by many to have been on a downward spiral for some time, having admitted to mental illness in the past and inappropriate behavior with employees. The straw that broke the camel's back, however, was an accusation of "unwanted sexual contact" from a teen affiliated with someone in his office– whether "unwanted sexual contact" amounted to harassment or rape was never specified. After receiving pressure from the Democratic leadership, Rep. Wu initially said he would not seek reelection, and has now resigned.
Rep. Wu's scandal was mostly swallowed up by a whirlwind of circumstances former colleague Anthony Weiner was not fortunate enough to encounter, most involving the debt vote, with even Rep. Gabrielle Giffords there to shield him from the spotlight (he was unable to escape Dave Weigel, but that seems about as much press as he got). While he initially said he would complete his term, he is not expected back in the House after recess.
Rep. Wu's goodbye to his constituents below:
Have a tip we should know? tips@mediaite.com