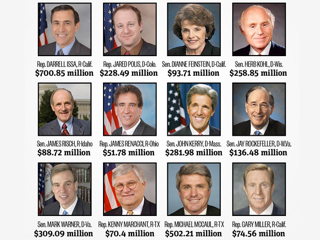 With Americans increasingly becoming concerned about the state of income inequality in their country, a new report is showing that the disparity between the average American's wealth and that of their Congressional representative is, to put it mildly, stark, with the Center for Responsive Politics reporting that nearly half of Congress is worth more than $1 million, and their total wealth increased 11% since 2009.
According to The Daily, the report shows Congress has been doing increasingly better over the years despite the floundering economy, which could partly be attributable to legal insider trading deals for which Congress has been under fire recently. More details from the report:
That said, some members of Congress do considerably better than others. Rep. Darrell Issa, R-Calif., topped the list with an estimated net worth of somewhere between $195 million and $700 million, for example, while Rep. Alcee Hastings, D-Fla., is apparently the poorest member of Congress, with estimated total net debt of between $2 million and $7 million. According to the study, though, 110 Democrats and 140 Republicans in Congress are millionaires.

What's more, the numbers are conservative, since the top income bracket for their spouses is listed as "$1 million or more," and the financial disclosure forms don't include assets like the personal home of a member of Congress.
Of the top ten, six are Democrats and four Republicans, six Congressman and four Senators. In the bottom ten, all ten are in the House of Representatives, and seven are Democrats, including Rep. John Conyers and Republican Louie Gohmert. Meanwhile, the average American family lost 23% of its net worth between 2007 and 2009 according to the Federal Reserve. The Daily also notes, however, that even within Congress there is significant income inequality, as the difference between the wealthiest and least wealthy member of Congress proves. The Daily report suggests that this disconnect in between Congressional representatives and their constituents could have had an impact on their approval in Congress on top of the perceived continual dysfunction of the legislative body, noting that Congress's approval rating hit an all-time low this year at 9%.
Find your Congressman or peruse the Center for Responsive Politics report here.
Have a tip we should know? tips@mediaite.com