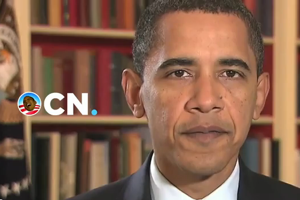 One of the staples of the Michael Steele RNC era is his insistence on innovative, light-hearted attack websites against the Obama administration, most of which have resulted in widespread laughter for all the wrong reasons. So while it's no surprise that Steele has announced yet another attack website on the blog formerly known as "What Up?," what is a surprise is that, this time, hilarious for precisely the reasons Steele and co want it to be.
It's called the "Obama Chicago Network," a website for the new cable channel with all your favorite Obama corruption programming. The promo for the network– featuring such exciting programming as "Dancing with the Law" (the Robert Gibbs competition), "I'm a Politician, Get Me Out of Here!" (the Rod Blagojevich reality show), and "The Colorado Hills" (a drama starring Andrew Romanoff)– is a play on NBC's new "More Colorful" campaign, but the website's hot pink skyline backdrop and network slogan are a lot more HBO than NBC. The slogan, "It's not TV– it's reality," is actually a play on "It's not TV; it's HBO." And aside from the "channel's" main promo, there are plenty of videos advertising the other programs.
The video and website hit at the soft, mushy core of right-wingers' biggest complaints about Obama– that he is a corrupt Chicago mobster type whose exploits are stranger than fiction, and the stuff reality TV producers dream of. By doing this, though, they risk alienating more moderate voters that have a hard time equating Obama with Al Capone— or even Rod Blagojevich– no matter how much they disagree with his policies. It also subtly hints at the old 2008 Republican meme of Obama as Celebrity that didn't even work back then and feels even rustier in light of the many problems facing his administration.
That said, this is potentially one of the more successful so-crazy-it-might-just-work campaigns Steele has spearheaded. In terms of production value and quality of message, on a scale of the GOP.com URL shortener to the Rahm Emanuel Valentine's Day Cards, this online effort from the RNC probably ranks up there with the 2008 Obama/David Hasselhoff German attack ad: goofy, ridiculous, but precisely the kind of red meat the Republican base loves. It's also a project whose comic appeal extends a bit further than the base, this time in a way that isn't completely damaging to the Republicans.
Watch the promo for the new Obama Chicago Network below:

Have a tip we should know? tips@mediaite.com